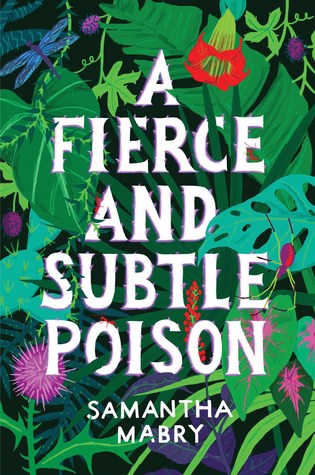 Title: A Fierce and Subtle Poison
Written by: Samantha Mabry
Published: April 12, 2016 by Algonquin Young Readers
(
Amazon
/
Goodreads
)
Synopsis: Everyone knows the legends about the cursed girl--Isabel, the one the señoras whisper about. They say she has green skin and grass for hair, and she feeds on the poisonous plants that fill her family's Caribbean island garden. Some say she can grant wishes; some say her touch can kill.
Seventeen-year-old Lucas lives on the mainland most of the year but spends summers with his hotel-developer father in Puerto Rico. He's grown up hearing stories about the cursed girl, and he wants to believe in Isabel and her magic. When letters from Isabel begin mysteriously appearing in his room the same day his new girlfriend disappears, Lucas turns to Isabel for answers--and finds himself lured into her strange and enchanted world. But time is running out for the girl filled with poison, and the more entangled Lucas becomes with Isabel, the less certain he is of escaping with his own life.
*** I received an advance copy of this book from the publisher via Netgalley. This fact has not changed my opinion. ***
I used to think I didn't like Magical Realism but the more of it I read the more enchanted with it I become. And while A Fierce and Subtle Poison didn't blow me away, it was an interesting read to be sure. It had some really great elements and some that didn't quite work for me.
One thing I did really like about this book is the magical realism and fantasy elements. That was the first thing that drew me into the book. The atmospheric world and gorgeous lyrical writing that has it's own sense of magic before the author even infuses the fantasy elements. And then when she does, you are all the more hooked. The author was definitely able to create a fantasy world that was both subtle and enthralling. It used stories, myths, and legends to connect with the present and the characters which I always like in my fantasy worlds. This of course made me question reality and had me seeing magic in unexpected places. In addition, it was a really atmospheric read with beautiful prose and descriptions that helped the reader to experience and visualize the world. Usually I don't like the exposition in the beginning of a book but here that was probably the best part.
But that being said, the mystery elements, however, didn't really work for me. It's hard to even register that this book also had a murder mystery/thriller aspect to it. It was so secondary. I love a good mystery and I was so excited when those elements of the story started kicking. I was incredibly engaged in finding out what was happening. But in terms of the execution of that, I would have liked a little more. I needed a little more searching for clues and a lot more of showing instead of telling when it came to the reveals to be engaged in this mystery. And to be entirely honest as the mystery started coming in more I lost a little interest. Now I do tend to be a little bit more critical of mysteries than I think a lot of readers are so don't let this turn you off of the book. It's not the focus so for most readers it won't be a dealbreaker. But for me, I would have liked a little bit more from that aspect.
That's also kind of how I felt about the characters. For the most part, they were okay, but most of them didn't fly off the page. I liked the main character of Lucas, I thought he was interesting and likable enough but he didn't make a strong impression. There were a lot of secondary characters here that were involved in pretty small capacities and while they added color to the book I have to admit that I would often get confused about who they were. Keeping Rico and Ruben straight was just as hard as remembering which girl was missing. They were just around so minimally. But a lot of them had really interesting back stories and I would have liked to learn a little more about them, especially Isabel. She was probably my favorite character. I mean how can you not like a girl who's touch is poisonous trying to help solve the mystery. She was fascinating and I wanted to learn more about here. The antagonist too was really interesting but we only got basic information about them as well. I think that in general the characters needed to be a little bit more flushed out for me.
On the whole
A Fierce and Subtle Poison
was an interesting and atmospheric magical realism novel. It had a gorgeous world and beautiful writing that drew you in and interestinf characters but could have used more mystery and plot development for me.
I give A Fierce and Subtle Poison 7.5 out of 10 stars



Buy/Borrow/Bypass:

Borrow.

This is a fast and interesting read despite some things I didn't totally love. I would recommend this to fans of fantasy looking for a standalone that will be a quick read with an engaging world. But if you are a fan of mysteries and are looking for that, maybe try something different.

Have you read A Fierce and Subtle Poison? What did you think? Leave me a comment with your thoughts. Thanks for stopping by and HAPPY READING!