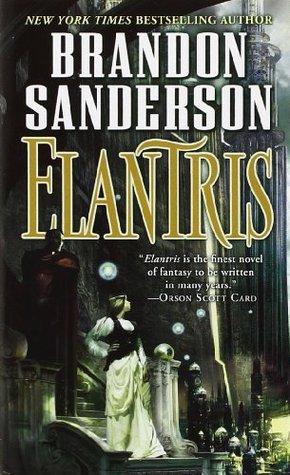 Title: Elantris
Written by: Brandon Sanderson
Published: May 2005 by Tor Books (Macmillan)
(
Amazon
/
Goodreads
)
Synopsis: Elantris was the capital of Arelon: gigantic, beautiful, literally radiant, filled with benevolent beings who used their powerful magical abilities for the benefit of all. Yet each of these demigods was once an ordinary person until touched by the mysterious transforming power of the Shaod. Ten years ago, without warning, the magic failed. Elantrians became wizened, leper-like, powerless creatures, and Elantris itself dark, filthy, and crumbling.
Arelon's new capital, Kae, crouches in the shadow of Elantris. Princess Sarene of Teod arrives for a marriage of state with Crown Prince Raoden, hoping -- based on their correspondence -- to also find love. She finds instead that Raoden has died and she is considered his widow. Both Teod and Arelon are under threat as the last remaining holdouts against the imperial ambitions of the ruthless religious fanatics of Fjordell.
So Sarene decides to use her new status to counter the machinations of Hrathen, a Fjordell high priest who has come to Kae to convert Arelon and claim it for his emperor and his god. But neither Sarene nor Hrathen suspect the truth about Prince Raoden. Stricken by the same curse that ruined Elantris, Raoden was secretly exiled by his father to the dark city. His struggle to help the wretches trapped there begins a series of events that will bring hope to Arelon, and perhaps reveal the secret of Elantris itself.
A rare epic fantasy that doesn't recycle the classics and that is a complete and satisfying story in one volume, Elantris is fleet and fun, full of surprises and characters to care about. It's also the wonderful debut of a welcome new star in the constellation of fantasy.
I'm determined to read most of not all of the books in the Cosmere I have unread books in 2016 so of course I had to start with Elantris. And I had the audiobook so I took the more than 28 hours it took and listened to it over the last two weeks. Once again Brandon Samderson has blown me away with his plotting, character development, and world-building.
Because the reason I read this book was to dive deeper into the Cosmere, I have to start by talking about the magical system in this book. It was of course a really intriging magical system. Brandon Sanderson is now and will forever will be the master of crafting complex and creative magical systems. This book is no different. It's a system that you don't fully understand until very late into the book which was very cool. It had me curious and questioning from the beginning and it's what kept me reading through the bulk of the book, despite of it's length or maybe because of it. But just because I didn't understand it doesn't mean that there was no magic This is a book full of magic and a brilliant world. As usual it is a book full of a world with a complicated history, mythology, and religion, all of which came into play in the plot of the book. Plus it made me much more committed to reading the rest of the Cosmere because it only gave me the barest hint of the larger world and I need to know more.
But the thing that really drew me into this book was the characters. There is a gigantic cast of secondary characters here that are great and interesting but the real stars are the main characters. Elantris alternates between three different perspectives and each one of them was so interesting. I particularly loved Sarene who is a fantastic strong and intelligent female character who subverts gender norms and stays feminine. Raoden too was fantastic. He is intelligent, kind, and a fantastic leader. Then there is Hraithen who is the antagonist of the book and incredibly mysterious. All the interactions between the characters were fantastic whether they were antagonistic, romantic, or collaborative. I loved every relationship in this book, especially the ship. It was a painful slowburn but so worth the wait. I mean seriously, no one melts my cold romancephobic heart like Brandon Sanderson. But part of that I think is just that he is so good at characterization.
But the great thing about all these characters is their scheming and planning led to a fantastic plot development. I always love the way that Sanderson's books slowly build to a thrilling conclusion and that's exactly the way Elantris did. It's a long book but exceptionally well-plotted with all kinds of intrigue and reveals along the way. It's not the kind of fantasy that has lots of action scenes but there was still so much drama. It focused a lot on the politics and religion and their conflicts. Plus it was full of Sanderson twists that caught me off guard and kept me guessing. Sometimes it did feel a little bit long but in the end it was all worth it. It all escalated to a fantastic climax that had me on the edge of my seat.
I listened to the audiobook for this one and I really enjoyed the audio. With long books like this I like to listen to them because it doesn't feel so intimidating for some reason. But I also thing for high fantasies, it helps me get immersed in the book, which is just what happened here. The narrator did a great job in creating each of the characters and the world. There's a lot of different characters and some of them sounded similar enough that it was hard to keep them straight. But it was a good audiobook and a great format for this book.
On the whole another great fantasy read by Sanderson who is an absolute favorite author. This one has great characters, a complex and mysterious plot, and an interesting and unique magical system which I loved.
I give Elantris by Brandon Sanderson 9.5 out of 10 stars



Buy/Borrow/Bypass

: Buy

. If you read and loved Mistborn then you should dive further into the Cosmere, so start here. But even so if you are a fan of epic fantasies with a lot of focus on political intrigue and a complex and unique magical system then check this out.

Have you read Elantris? What did you think? leave me a comment with your thoughts. Thanks for stopping and HAPPY READING!