Hello and welcome back to another episode of
Please Feed My Bookworm Thought
s, a biweekly podcast where Britt from Please Feed the Bookworm and I talk about all things bookish. If you listened to our last episode you heard that we had a very special surprise for this next episode. And guys, here it is. THE SURPRISE! We got to interview Roshani Chockshi about The Star-Touched Queen. She was an absolute delight and had some amazing things to say about the book, writing, and life.
Guys! I am so so excited to share this post and podcast with you all today. Britt and I have been flailing about this for so long! It's amazing for it to be out there in the world. We've been really excited about The Star-Touched Queen for so long now, I know we talked about it in our podcast about 2016 Debuts so we are so excited to have a very special interview with the author Roshani Chokshi
Thanks to St, Martin's for having us on the blog tour for The Star-Touched Queen and for setting up this interview with Roshani. Check it out:
About the Book: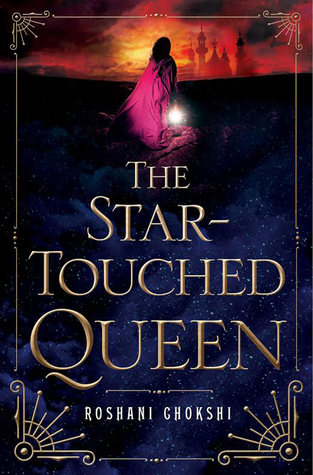 Title: The Star-Touched Queen
Written by: Roshani Chokshi
Published: April 26, 2016 by St. Martin's Griffin (Macmillan)
Synopsis: Fate and fortune. Power and passion. What does it take to be the queen of a kingdom when you're only seventeen?
Maya is cursed. With a horoscope that promises a marriage of Death and Destruction, she has earned only the scorn and fear of her father's kingdom. Content to follow more scholarly pursuits, her whole world is torn apart when her father, the Raja, arranges a wedding of political convenience to quell outside rebellions. Soon Maya becomes the queen of Akaran and wife of Amar. Neither roles are what she expected: As Akaran's queen, she finds her voice and power. As Amar's wife, she finds something else entirely: Compassion. Protection. Desire...
But Akaran has its own secrets -- thousands of locked doors, gardens of glass, and a tree that bears memories instead of fruit. Soon, Maya suspects her life is in danger. Yet who, besides her husband, can she trust? With the fate of the human and Otherworldly realms hanging in the balance, Maya must unravel an ancient mystery that spans reincarnated lives to save those she loves the most. . .including herself.
A lush and vivid story that is steeped in Indian folklore and mythology. The Star-Touched Queen is a novel that no reader will soon forget.
About the Author:
Roshani Chokshi comes from a small town in Georgia where she collected a Southern accent, but does not use it unless under duress. She grew up in a blue house with a perpetually napping bear-dog. At Emory University, she dabbled with journalism, attended some classes in pajamas, forgot to buy winter boots and majored in 14th century British literature. She spent a year after graduation working and traveling and writing. After that, she started law school at the University of Georgia where she's learning a new kind of storytelling.​ The Star-Touched Queen is her first novel.
Pinterested in THE STAR TOUCHED QUEEN? Check it out here!
https://www.pinterest.com/rchoxi91/the-star-touched-queen/
We seriously cannot thank Roshani enough for chatting with us and talking The Star-Touched Queen. I'm about 2/3rds of the way into the book as I write this and an it is definitely engrossing and beautifully descriptive. I would absolutely recommend it to fantasy fans. It's got amazing world-building and so much mystery and mythology. It's now available wherever books are sold so go out and get a copy!
Get a Copy:
Amazon
/
Barnes & Noble
/
Book Depository
/
Indiebound
But this is only the beginning of our Star-Touched podcasts. Stop by
Britt's blog
or come back here next Friday to check out our full podcast review, spoilers and all. I hope you all enjoyed this as much as we did. Thanks for stopping by and HAPPY READING!