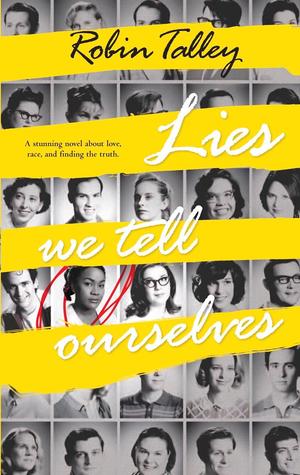 Title: Lies We Tell Ourselves


Written by: Robin Talley




Published: September 30, 2014 by Harlequin Teen




(

Amazon

/

Goodreads

)



Synopsis: In 1959 Virginia, the lives of two girls on opposite sides of the battle for civil rights will be changed forever.



Sarah Dunbar is one of the first black students to attend the previously all-white Jefferson High School. An honors student at her old school, she is put into remedial classes, spit on and tormented daily.





Linda Hairston is the daughter of one of the town's most vocal opponents of school integration. She has been taught all her life that the races should be kept separate but equal.





Forced to work together on a school project, Sarah and Linda must confront harsh truths about race, power and how they really feel about one another.





Boldly realistic and emotionally compelling, Lies We Tell Ourselves is a brave and stunning novel about finding truth amid the lies, and finding your voice even when others are determined to silence it.

*** I received an advance copy of this book from the publisher at BEA. This fact has not changed my opinion. ***

I have had this book in my life for nearly two years now. And since then it has been staring at me wondering why I haven't taken the time to read. I was so excited about it when I got it. It has been on many a potential read list for me and I never took the time to read it. But thanks to ARC April I made the time and I am so glad that I did. Lies We Tell Ourselves is a beautiful and affecting historical fiction novel with great characters and themes.

Sometimes the best books, the ones that make the biggest impact, are those that are hard to read. Books that handle difficult topics and make the reader a little uncomfortable. That was Lies We Tell Ourselves for me. This book, for one, is a great piece of historical fiction. It takes the reader to a time of great turmoil and change in American History and by showing a tiny slice of life, is able to portray and analyze some really complex ideologies. The author did a really great job researching the period and it shows. She was able to immerse the reader in the period in a way that both honest, organic, and dramatic. She also did a good job of showing such a complex issue from multiple sides. The topic of segregation and the Civil Rights movement was such a complex thing, especially in the American South and we gain more from putting ourselves in the shoes of those who wanted integration and those who didn't. It's not always easy to be there especially when it comes to those conversations of right and wrong come up, but that's what made the book all the more interesting. It wasn't very easy to read at times but it was really compelling.

The characters were also really interesting. The nature of the story made for really complex characterizations and great character development which I always really like. The two main characters are Sarah and Linda. Sarah, an African American integrator, does not have things easy and you totally feel for her. Getting in her head while she is being mistreated by her fellow students just for their perceptions about her was tough to handle at times but it made her so sympathetic and her inner strength all the more engaging. Then there is Linda, a white student at the school. She starts off being very unlikable. She kind of embodies the ideals that we see as backwards and racist but were so common at the time. But you also get the sense that she knows this treatment is wrong. So as the book develops you start to see that she's waking up to what's really going on and you can't help but respect her for that. Both girls have great development as they start thinking for themselves and taking responsibility for their actions and their future.

But part of their development that I liked so much was the relationship between the two girls. It definitely starts very adversarial as they argue and fight about their beliefs and the world around them. But the more time they spend together, and the more they learn from one another, the more respect they develop for one another, the more they like one another. As a reader I was incredibly engaged in that development and as it progressed I was totally on board. This isn't just about about race, it's a book about identity and part of that identity is sexual identity. The two main characters coming to terms with their sexuality with their relationship with each other was fantastic and such a slowburn. Like so slow that in the end it was only implied. But that's what made it historically accurate and all the more interesting.

I will say that Lies We Tell Ourselves is a more character-driven book, something I don't always love, but it was so readable and compelling. It was beautifully written and so well-paced. I slowly read the first half and then flew through the second half of the book, needing to know what would happen next. It's a book that brilliantly handles difficult topics that are relevant today but shows them through a really well-done historical gaze. And while it is difficult to read at times, it never felt over-done in reference to it's themes and topics. It was an engaging story about identity and independence at the same time as it was about serious social and historical issues.

On the whole this is a fantastic book and I can't believe I waited this long to read it. It was sometimes hard to read but it was so engaging with great characters and interesting themes. It is a book that will stick with me long after reading.




Buy/Borrow/Bypass:

Buy.

I would absolutely recommend this book to fans of historical fiction, especially ones that deal with serious issues. Or if you are looking for a book that deals with race and identity then check this out. It was so well-written and engaging.




Have you read Lies We Tell Ourselves? What did you think? Leave me a comment with your thoughts. Thanks for stopping by and HAPPY READING!