A weekly meme hosted by
Breaking the Spine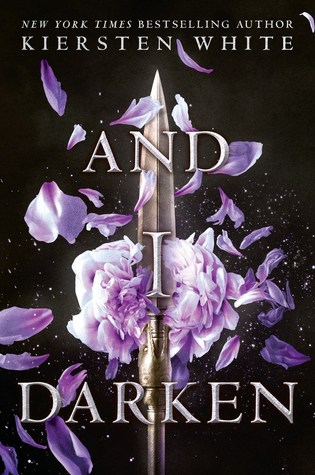 Title: And I Darken


Series: The Conquerers Saga #21
Author: Kiersten White

Published: June 28, 2016 by Delacorte (Random House)




Synopsis: NO ONE EXPECTS A PRINCESS TO BE BRUTAL.

And Lada Dragwlya likes it that way. Ever since she and her gentle younger brother, Radu, were wrenched from their homeland of Wallachia and abandoned by their father to be raised in the Ottoman courts, Lada has known that being ruthless is the key to survival. She and Radu are doomed to act as pawns in a vicious game, an unseen sword hovering over their every move. For the lineage that makes them special also makes them targets.

Lada despises the Ottomans and bides her time, planning her vengeance for the day when she can return to Wallachia and claim her birthright. Radu longs only for a place where he feels safe. And when they meet Mehmed, the defiant and lonely son of the sultan, who's expected to rule a nation, Radu feels that he's made a true friend—and Lada wonders if she's finally found someone worthy of her passion.

But Mehmed is heir to the very empire that Lada has sworn to fight against—and that Radu now considers home. Together, Lada, Radu, and Mehmed form a toxic triangle that strains the bonds of love and loyalty to the breaking point.

From New York Times bestselling author Kiersten White comes the first book in a dark, sweeping new series in which heads will roll, bodies will be impaled . . . and hearts will be broken.

I mean, come on! Is that even a question? This is such a me book. For one thing, it's historical fiction that takes place in Medieval Europe about a topic that you don't often see and a place you don't often go. Which in and of itself is fascinating. Then you add the fact that it's got a lot of court politics and political intrigue with a small country trying to defend itself from a large empire and it's rulers in the land of the enemy.

But seriously, the moment I knew I needed to read this book was when I heard about the characters. Brutal princess is a qualifier that I want everything to do with but it gets even better. You guys, this is a book about a gender-swapped, teenage Vlad the Impaler. Who if you are not familiar with, was the inspiration for Dracula. This book is about a teenage, female, Dracula. *mindblown*


Obviously I need it. I've had a copy in my Netgalley for months now (Thanks Random House) and it's taken all my self-control not to immediately start it. But I have to wait until closer to release date,
What about you? What are you waiting for this Wednesday? Are you waiting on And I Darken along with me? Leave me a comment with your thoughts. Thanks for stopping by and HAPPY READING!