*** This is the third book in a series. If you haven't read Scarlet (
MY REVIEW
) and Lady Thief (
MY REVIEW
) then proceed with caution. There are no spoilers for this book but there may be some for those ones. ***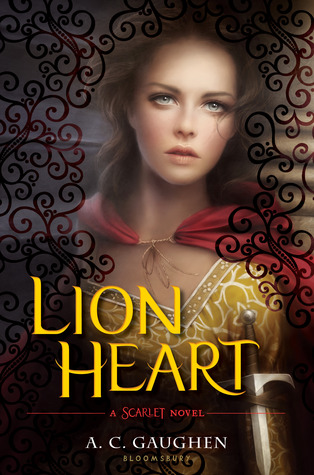 Title: Lion Heart
Series: Scarlet #3
Written by: A.C. Gaughen
Published: May 19, 2015 by Bloomsbury
(
Amazon
/
Goodreads
)
Synopsis: The eagerly-awaited conclusion to the Scarlet trilogy delivers another action-packed and romance-filled adventure.
Scarlet has captured the hearts of readers as well as the heart of Robin Hood, and after ceaseless obstacles and countless threats, readers will finally find out the fate of the Lady Thief.
Imprisoned by Prince John for months, Scarlet finds herself a long way from Nottinghamshire. After a daring escape from the Prince's clutches, she learns that King Richard's life is in jeopardy, and Eleanor of Aquitaine demands a service Scarlet can't refuse: spy for her and help bring Richard home safe. But fate—and her heart—won't allow her to stay away from Nottinghamshire for long, and together, Scarlet and Rob must stop Prince John from going through with his dark plans for England. They can not rest until he's stopped, but will their love be enough to save them once and for all?
If you read my review of Lady Thief on Monday you know that I impulsively decided to marathon this series as part of retellings month because I liked Scarlet so much, If feels so good to finish this series instead of only reading the first book for the Rock My TBR Challenge. And this was a great ending to a series that I definitely loved.
First things first, I jut love these characters so much. Spending three books with Scarlet and Rob is honestly not enough. They are fantastic heroes and make an amazing team. In particular I loved seeing Scarlet's development throughout the series. She's really grown and matured throughout this series. She has gone from a thief to a lady, well a Lady Thief. I love how much she cares for the people of Nottingham and I support her efforts to do whatever it takes to help them. But of course she had Robin Hood there to help the people. Rob also had great development as well. But I think what really impressed me about the characters here are the villains. They were devious, vindictive, and definitely those you love to hate. This series is full of amazing characterizations and I'm honestly not ready to let it go because I'm not ready to let these characters go.
Speaking of love and the characters, the ship in this book is so brilliant. You guys know how I feel about romance. I am not usually a fan of romance. My cold, dead heart is lukewarm at best when it comes to books that are heavy on the romance. But here there was so much romance and I not only found myself happy about it but wanting more. The shipping feels are strong with this book and I was absolutely drowning in them and I loved that because I ship it so hard. Usually I see people talking about kissing scenes and I realize I blocked them out but here I remember them because there were some absolutely amazing kissing scenes.
But that does kind of lead into my only criticism of the book which is around the plot development and pacing. There is a lot of emphasis on the romance which is totally fine but it meant that the other plot points didn't get as much attention, To me that made for a book that didn't really feel like a cohesive story. There were some elements that didn't get introduced until very late in the book and there were some lulls in the general flow of the story. I feel like the first two books seemed more connected and this one feels a little bit more independent. Which again is not necessarily a bad thing but this being the last book in the series I felt like I was missing that resolution to the larger plot that started in the first book. I still have questions, I feel like there is more story to tell and the focus on the romance was to the plot here.
But I did once again love the way that the author incorporates the retelling and the historical aspects of the period. It's another thing that I really enjoyed about the series and like about the original Robin Hood story. It brings fictional and almost mythological figures in conflict with actual historical figures. The way that the elements of the Robin Hood story incorporates with the history of Prince John and Eleanor of Aquitaine has been such a highlight of this series and here it came in to the book in a big way. I'm a big fan of historical fiction and this is a series that does it right. It's well researched and still creative. But that being said, this was the plot point I wanted more of which the romance took over for so maybe that was why I think that about the plot.
On the whole this is a fantastic and entertaining story and I enjoyed it so much. I'm not ready to say goodbye to the character and I could also use some resolutions on some of the more historical plot points so basically, more please?
I give Lion Heart by A.C. Gaughen 8.5 out of 10



Buy/Borrow/Bypass

: Buy.

Even though this isn't the perfect resolution to the series in my opinion, it is a great series with fantastic characters. I would definitely recommend this to fans of historical fiction or anyone who is looking for a series great characters full of adventure and romance.

Have you read Lion Heart? What did you think? Leave me a comment with your thoughts. Thanks for stopping by and HAPPY READING!