Well, I have had to mark another book as Did Not Finish. I don't often DNF books. I will power through because I can find something redeeming about the book, or I am just pretty good about picking books I like. But every once in a while a book comes along that I just can't power through and am surprised I didn't like. I probably DNF one book every couple months but it's been awhile, since Decemeber, since I DNF'd something.
So as I am on a bit of a weird cycle with my reading and didn't have much time to read this weekend, I decided to to a quick posts to explain my thoughts on the book I shelved as "DNF" this month. Writing DNF reviews is a tricky subject. I don't want to do full reviews on the book because I don't really have a well-rounded enough view on it. But I also wanted to explain why I didn't quite like the books because I try to be really honest here. So I based this post on
Nikki at There Were Books Involved's DNF Q+As.
This allows me to explain why the book didn't quite work for me without giving a full review. So here you go, my DNF Reviews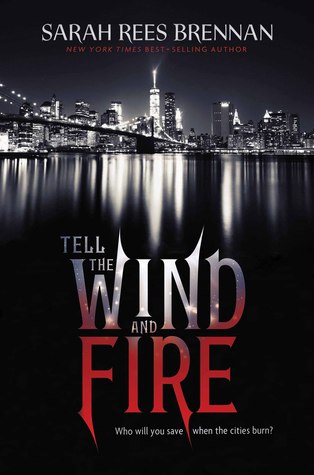 Title: Tell the Wind and Fire
Author: Sarah Rees Brennan
Published: April 5, 2016 by Houghton Mifflin Harcourt
Source: Netgalley
(
Amazon
/
Goodreads
)
Synopsis: In a city divided between opulent luxury in the Light and fierce privations in the Dark, a determined young woman survives by guarding her secrets.
Lucie Manette was born in the Dark half of the city, but careful manipulations won her a home in the Light, celebrity status, and a rich, loving boyfriend. Now she just wants to keep her head down, but her boyfriend has a dark secret of his own—one involving an apparent stranger who is destitute and despised.
Lucie alone knows of the deadly connection the young men share, and even as the knowledge leads her to make a grave mistake, she can trust no one with the truth.
Blood and secrets alike spill out when revolution erupts. With both halves of the city burning, and mercy nowhere to be found, can Lucie save either boy—or herself?
Celebrated author Sarah Rees Brennan tells a magical tale of romance and revolution, love and loss.
How Much I Read:
24% of the e-ARC
Why it Didn't Work For Me:
*exasperated sigh* I don't know. A lot of really small things. I was really excited to read this book when I first heard about. It's a science fiction retelling of A Tale of Two Cities and involves doppelgangers and dark magic. How cool does that sound? And then when I started reading it, I was into it. The world was fascinating, there was a great opening scene with a lot of mystery, intriguing characters. It was going well. But then I just lost interest. For one thing, the world-building became confusing and over-wrought. There was so much exposition and explanation in the first quarter of the book and I was waiting for some semblance of a plot that was coming very slowly.
But I think the big kicker for me was the characters. I just couldn't connect with them. The main character just felt flat and the secondary characters felt grating. I know that one was meant to be funny and sarcastic but he just felt mean. I didn't want to be around them and that's what may have done it for me. I put it down for the weekend and when it came time to go back I just wasn't interested.
Will I Go Back to It:
Maybe. I am kind of curious about the plot. There was some mystery I have theories about and I find of want the know if I'm right but I'm not really sure. I may try the audiobook. There have been multiple instances where I DNF'd something only to love the audio. And this may work in this format because there is a lot of world-building that can help create the setting in a more interesting way. Maybe if I give it a little more time, the plot will kick in and I will be more interested.
Have you read Tell the Wind and Fire? What did you think? Leave me a comment with your thoughts. Thanks for stopping by and HAPPY READING!