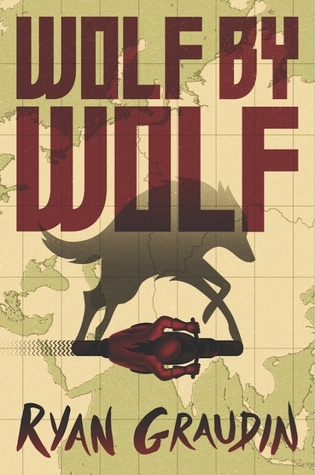 Title: Wolf by Wolf
Series: Wolf by Wolf #1
Written by: Ryan Graudin
Published: October 20, 2015 by Little, Brown Books fro Young Readers
(
Amazon
/
Goodreads
)
Synopsis: Her story begins on a train.
The year is 1956, and the Axis powers of the Third Reich and Imperial Japan rule. To commemorate their Great Victory, Hitler and Emperor Hirohito host the Axis Tour: an annual motorcycle race across their conjoined continents. The victor is awarded an audience with the highly reclusive Adolf Hitler at the Victor's Ball in Tokyo.
Yael, a former death camp prisoner, has witnessed too much suffering, and the five wolves tattooed on her arm are a constant reminder of the loved ones she lost. The resistance has given Yael one goal: Win the race and kill Hitler. A survivor of painful human experimentation, Yael has the power to skinshift and must complete her mission by impersonating last year's only female racer, Adele Wolfe. This deception becomes more difficult when Felix, Adele twin's brother, and Luka, her former love interest, enter the race and watch Yael's every move.
But as Yael grows closer to the other competitors, can she bring herself to be as ruthless as she needs to be to avoid discovery and complete her mission?
From the author of The Walled City comes a fast-paced and innovative novel that will leave you breathless.
*** I received an advance copy of this book from the publisher at BEA in 2015. This fact has not changed my opinion. ***
Add this to the list of "books I should have read way earlier." I got a copy of this at BEA last year and while I was interested, I never picked it up. Until now. And I wish I had read it sooner because this book was so good.
This is a fantastic alternate history that reimagines the 1950's if the Axis Powers had won WWII. I usually don't like alternate histories but this one was subtle. It takes real historical figures and incidences and uses it to build a world that is complex and creative. It's odd in that it reads like historical fiction and doesn't at the same time. You can tell that the author did her research into what may have led to an Axis victory, which was really fantastic and kind of grounded the book in reality. It's one of the things I love about historical fiction and speculative fiction at the same time, that it can make something completely imaginary seem possible but at the same time creative. And Wolf by Wolf was an absolutely creative book. It's one of the most inventive stories I have read in a while.
One of the more creative things about this book was the characters. Our main character is Yael who is a ski shifter masquerading as Adele Wolfe. She has a devastating history that we learn about in periodic flashbacks and it makes her very sympathetic. That on top of her determination and inner strength made her a fantastic protagonist. But I also loved all the secondary characters here. It's honestly a book full of antagonists which made it all the more thrilling. Yael has to be careful not to be found out which is made harder by characters who know Adele. Particularly, her brother Felix and Luka Lowe. Both characters were interesting and made things complicated. My personal favorite was Luka. I freaking love Luka Lowe and his subtle roguish charm. He's just so fantastic and fun. And while there is not a lot of romance in this book, I got some serious book boyfriend and shipping feels from him. There's even a novella from his perspective so you know I'm reading that.
On top of that it has a very captivating and thrilling plot. The stakes are incredibly high here for a few reasons, first the Resistance's plan and second the race. Both storylines blended together so well and really added a lot of suspense. The author did a great job descriptively immersing the reader in the race as the characters are taken all around the Northern Hemisphere. There is a ton of action here and it definitely had me on the edge of my seat as it neared the conclusion. It's not a book that is necessarily twisty but there are still unexpected surprises and instances where the main character has to use her wits and skills to get out out them. It all made for an exciting read from start to finish. Speaking of finish, when it finally reached the climax, I couldn't put it down. I've said on the blog before that I don't state up late reading, especially if I have to finish a book, but it was so hard to stop myself with Wolf by Wolf. I actually got to a point where I could stop, just before the climax, and I forced myself to put it down so I could sleep a few hours and then got up early to finish it. I never do that! I like sleep too much to do that! But this book was so good.
I have heard nothing but good things about this book and now that I've read it, I get why. It's addicting and thrilling. It has a complex plot and characters you will fall for. I'm so glad I took the time to read it this month as part of ARC April and now I can't wait to read the next book in the series. I will definitely be getting a copy at BEA again this year.
I give Wolf by Wolf by Ryan Graudin 10 out of 10 stars
Buy/Borrow/Bypass: BUY!
I would recommend this book to fans of historical fiction set in WWII but it's not your average book from the period, it's something totally unique. Which is why I would recommend this to everyone. It's as a truly unique and captivating book that has both engaging character moments and thrilling action. A great read!
Have you read Wolf by Wolf? What did you think? Leave me a comment with your thoughts. Thanks for stopping by and HAPPY READING!