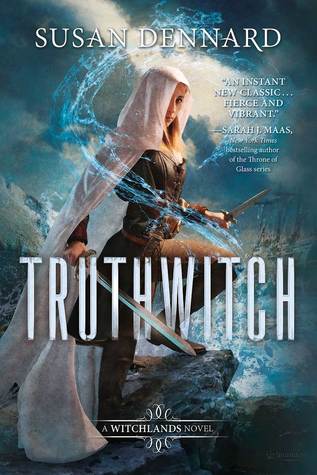 Title: Truthwitch
Series: The Witchlands #1
Written by: Susan Dennard
Published: January 5, 2016 by Tor Teen (Macmillan)
(
Amazon
/
Goodreads
)
Synopsis: On a continent ruled by three empires, some are born with a "witchery", a magical skill that sets them apart from others.
In the Witchlands, there are almost as many types of magic as there are ways to get in trouble—as two desperate young women know all too well.
Safiya is a Truthwitch, able to discern truth from lie. It's a powerful magic that many would kill to have on their side, especially amongst the nobility to which Safi was born. So Safi must keep her gift hidden, lest she be used as a pawn in the struggle between empires.
Iseult, a Threadwitch, can see the invisible ties that bind and entangle the lives around her—but she cannot see the bonds that touch her own heart. Her unlikely friendship with Safi has taken her from life as an outcast into one of reckless adventure, where she is a cool, wary balance to Safi's hotheaded impulsiveness.
Safi and Iseult just want to be free to live their own lives, but war is coming to the Witchlands. With the help of the cunning Prince Merik (a Windwitch and ship's captain) and the hindrance of a Bloodwitch bent on revenge, the friends must fight emperors, princes, and mercenaries alike, who will stop at nothing to get their hands on a Truthwitch
*** I received an advance copy of this book from the publisher at BEA in exchange for an honest review. This fact has not changed my opinion. ***
I've been a fan of Susan Dennard for awhile now. I marathoned her
Something Strange and Deadly series
in the summer of 2014 and really enjoyed it. So when I heard she was coming out with a new high fantasy series I knew I needed to read it. At BEA this year, I did things I'm not proud of to get my hands on an ARC (well mostly running but I'm not a runner) but I don't at all regret getting a copy because oh wow, this book was such a fantastic read.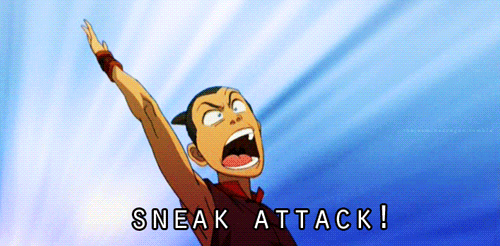 First things first, Truthwitch is so full of action. I'm a plot driven reader. I like when a book takes me on an adventure and either doesn't stop from the word go or really builds to an exciting and thrilling conclusion. Truthwitch did both of those things. Right from the opening scene you know that this is going to be a book full of action and things don't really slow down at all. It's scene after scene of daring escapes, thrilling fights, and really close calls for the heroes. The stakes are incredibly high and more than once I was terrified about what would happen to one character or another. But it's not just action scene for the sake of drama, it's also incredibly well plotted. There is a subtle mystery to the book, more than a few twists and big reveals actually, and clues are slowly revealed as everything develops. Plus everything culminates in a huge climax where things intertwine and it all comes to head in a thrilling scene that had me on the edge of my seat. If you are looking for a book that is full of action and adventure then look no further than Truthwitch.
Truthwitch is also a book with a fascinating world and magical system. As a fan of fantasy, I am always looking for a magical system that isn't just the same thing over and over again. And I was a little nervous going into this book because I don't always love elemental magic, it's tough to make it creative for me. Susan Dennard however has managed to do it though. What helps is that while she has your standard control of things like fire, air, and water she also has some really unique ones as well. Like our two protagonists, Safi and Isuelt. Safi who is a Truthwitch and can tell if people are lying and Isuelt who is a Threadwitch and can see people's feeling and the threads that connect them to each other and the world around them. It sounds really confusing but it makes total sense throughout the book which is the mark of a great author. But I think my favorite power was Aeudan, who is a Bloodwitch meaning he can heal himself but also smell other people's blood and track them across long distances. Each of these three powers were so unique and fascinating.
The setting too was really interesting and engaging. You can see the influences of Medieval Europe in the world and geography of the Witchlands, something that is very common in high fantasy, but it still all comes off as creative an original. It's a world with it's own history, mythology, and religion all of which come into play in the book a little. I love these types of fantasy worlds, the ones that are rich in detail and information, the ones with a backstory. But Susan doesn't get bogged down with that backstory. There aren't info dumps where they tell you all about something that happened ages ago that will later influence the story. You as the reader have to figure things out on your own and use what is shown to develop that history. It made for a much more interesting and immersive experience for me.
And finally, Truthwitch has some absolutely brilliant and complex characters who intertwine and interact in fantastic ways. Of course the most engaging characters are our main characters, Safi and Isuelt. They are both incredibly tough and smart women who I love. Safi is a little more reckless with an act before you think personality while Isuelt is more cautious and calculating. I liked them both but I think I had more of a connection with Isuelt, which is interesting because I'm more like Safi. But I'm blaming it on the whole Treadsisters thing. Because while these two were interesting apart they are so compelling together. They feel such affection for one another and perfectly balance the other person out. I love books with strong female friendships and this one definitely had that. But it also had great males too. I already mentioned Aeduan who was also super interesting. He's such a dubious character. He could very well be a villainous character but he never comes off that way. He's also just so mysterious I want to learn more about him. Then there is Merik who also is a pretty dubious character. He's the prince of a small autonomous nation and a Waterwitch. He's got a quick temper but would also do anything to help the people he loves. He's surly but also so kind. I really enjoyed him and his development throughout the book. And that's just the main characters. Every person you interacted with in this book was interesting and complex.
On the whole, the only word for Truthwitch is brilliant! It was a book I was super excited to read from the moment I first learned about it. It has been really hyped up for months now and I'm really happy to say that it lives up to the hype. It introduced us to a unique new world with a fascinating magical system and the complex characters who inhabit it, while taking the reader on a non-stop thrill ride from beginning to end.
I give Truthwitch by Susan Dennard 10 out of 10



Buy/Borrow/Bypass:

BUY!

You need this book. Trust me. Especially if you are a fan of high fantasy epics. It's reminiscent of so many of those great fantasy stories that I love and yet still comes off as creative and original. And even if you aren't a big fantasy fan but you like really action-packed stories with great characters then give Truthwitch a try. It lives up to the hype, you will love it too!

Have you read Truthwitch? What did you think? Leave me a comment with your thoughts. Thanks for stopping by and HAPPY READING!