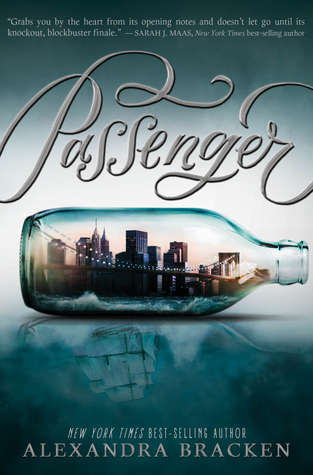 Title: Passenger
Series: Passenger #1
Written by: Alexandra Bracken
Published: January 5, 2016 by Disney Hyperion
(
Amazon
/
Goodreads
)
Synopsis: passage, n.
i. A brief section of music composed of a series of notes and flourishes.
ii. A journey by water; a voyage.
iii. The transition from one place to another, across space and time.
In one devastating night, violin prodigy Etta Spencer loses everything she knows and loves. Thrust into an unfamiliar world by a stranger with a dangerous agenda, Etta is certain of only one thing: she has traveled not just miles but years from home. And she's inherited a legacy she knows nothing about from a family whose existence she's never heard of. Until now.
Nicholas Carter is content with his life at sea, free from the Ironwoods—a powerful family in the colonies—and the servitude he's known at their hands. But with the arrival of an unusual passenger on his ship comes the insistent pull of the past that he can't escape and the family that won't let him go so easily. Now the Ironwoods are searching for a stolen object of untold value, one they believe only Etta, Nicholas' passenger, can find. In order to protect her, he must ensure she brings it back to them— whether she wants to or not.
Together, Etta and Nicholas embark on a perilous journey across centuries and continents, piecing together clues left behind by the traveler who will do anything to keep the object out of the Ironwoods' grasp. But as they get closer to the truth of their search, and the deadly game the Ironwoods are play­ing, treacherous forces threaten to sep­arate Etta not only from Nicholas but from her path home . . . forever
Wow! That book was just stellar! I really loved Alexandra Bracken's first series, The Darkest Minds so I was really excited to see here take on time travel. I was not at all disappointed. Alex has once again blown me away with her creativity, world building, characterization, and plot development.
Passenger is a book that defies genre categorization. That's why I'm sucker for time travel books and this was a good one. I love drama that comes with a person being outside of their comfort zone and within a world unlike their own. That was definitely the case with Passenger. Each location that we were taken to was compelling and interesting and placed the characters somewhere that challenged their perceptions. Fans of historical fiction will love exploration of these locales and the themes of the time. Whether it was being on a pirate ship during the American Revolution, war-torn London, or ancient Cambodia there was so much drama just within the setting of the book. But fans of science fiction and fantasy will love the time travel motifs even though the explanations were a bit front loaded with some info dumps in the beginning.
But what struck me about Passenger is that it's not a very action-packed book. You hear time travel, adventure, treasure hunt through time and you think it's going to be a plot-driven read. Usually I would be complaining about the lack of plot development but there was no lack, it was just very different. What I was expecting to be the main plot was really just the secondary plot. This was a much more character focused kind of book. It was more of a Hero's Journey. A call to action for reluctant characters thrust into an adventure they are both unprepared for and yet perfectly able to handle.
The characterization here did a great job of developing that uncertainty and growth throughout the narrative. I really enjoyed the complex and likable characters of Passenger. Of course that included the main characters of Etta and Nicholas. I was absolutely invested in their struggles and adventures. I wanted them to achieve their goals. Etta is a modern girl with modern sensibilities which makes her tough, smart, and independent. But she's also so uncertain. She doesn't know what she wants for herself and often puts others before herself and would do anything for them. Nicholas was more of a mystery. He's not your typical swashbuckling pirate and rogue. He's also tough, smart, and protective but he wants something more for himself. Unfortunately, he lives in a world that doesn't really allow for him to do that. They were great together too. Not necessarily romantically, although that was cute it was mostly their banter and cooperation. The book also had amazing secondary characters like Sophia who was brash and tough, Rose who is Etta's mom and really complex and mysterious, plus some really great antagonists.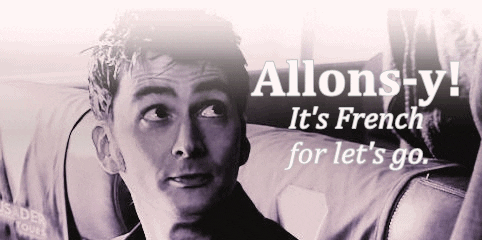 Although keep in mind that the plot and pacing was a little slower but in a good way. This is the first book in a new duology so it had to give us a lot of exposition in the beginning. It had to build the world and set the rules, especially for the time travel elements. And yes, it did have some info dumps that took me out of the larger plot of the story but in the end it was all worth it. In the end this was a well-plotted book where things came full circle and built to a brilliant and thrilling conclusion. There were some really great plot twists that caught me so off guard that when I got to the climax of the book I couldn't put it down. When I finally did finish, it had me reeling and needing the next book.
On the whole this was a really great read that took me on a great adventure with complex characters in an interesting setting. It's a compelling time travel book and a great start to a new series that I can't wait to see where it leads.
Buy/Borrow/Bypass: BUY!
I had high hopes for this book and I was not disappointed. It was slow burn of a book that really built to something wonderful. I would recommend to fans of time travel books of historical mysteries. It might take a little while for the action to kick in but it's worth it in the end.
Have you read Passenger? What did you think? Leave me a comment with your thoughts. Thanks for stopping by and HAPPY READING!