Title: Written in Red
Series: The Others #1
Written by: Anne Bishop
Published: March 5, 2015 by Penguin Group
(
Amazon
/
Goodreads
)
Synopsis: No one creates realms like "New York Times "bestselling author Anne Bishop. Now in a thrilling new fantasy series, enter a world inhabited by the Others, unearthly entities--vampires and shape-shifters among them--who rule the Earth and whose prey are humans.
As a "cassandra sangue," or blood prophet, Meg Corbyn can see the future when her skin is cut--a gift that feels more like a curse. Meg's Controller keeps her enslaved so he can have full access to her visions. But when she escapes, the only safe place Meg can hide is at the Lakeside Courtyard--a business district operated by the Others.
Shape-shifter Simon Wolfgard is reluctant to hire the stranger who inquires about the Human Liaison job. First, he senses she's keeping a secret, and second, she doesn't smell like human prey. Yet a stronger instinct propels him to give Meg the job. And when he learns the truth about Meg and that she's wanted by the government, he'll have to decide if she's worth the fight between humans and the Others that will surely follow
I have owned a copy of this book for a while now. I got the Kindle version for only $2 and it took me awhile to read it. I'm not entirely sure why because I've heard nothing but good things from blogging friends. It was a really good adult urban fantasy with lots of mystery and a great world, despite an extremely slow plot development.
One of the things I liked most about this book was the world. Written in Red is Urban Fantasy. I'm not a big Urban Fantasy reader, honestly I can't really think of many UF that I have actually read, so I didn't really know what I was getting into as far as the world of the book. But I was blown away by how complex and engaging it was. Anne Bishop created a really unique alternate North America. It is a world where supernatural creatures inhabited the land before humans and then when they came, they had to deal with them. I loved what she did with her terra indigene. She took things that are familiar to us like shapeshifters and vampires but still made them creative and interesting. Then she created something truly unique ones like with the blood prophet, ponies, and Elementals. They were all so fascinating but I feel like we've only begun to scratch the surface with these supernatural creatures. We've also only begun to scratch the surface with the relationship of the terra indigene and their relationship with humans. This book brought up a lot of complex things that I'm sure will come into play later in the series.
But a lot about this book was just that, barely mentioning things that will come into play later in the series. It led to investment in the series but it did make this book hugely guilty of First Book Syndrome. Written in Red is not a fast-paced book. It took me a lot longer to read than I expected. There was a lot of exposition to this book which slowed down the pacing and plot development a little bit. It's a lot of world building. A lot of explaining about the world and the characters. A lot of explaining about the prejudices that exist in the world. Not to mention a lot of what I think was supposed to be mystery in the beginning that came off as dramatic irony. Eventually things did pick up but not until about 250 pages in. I usually prefer a more plot-driven read and while I did really like the direction of this book it was just so slow. I had been warned about that from fellow bloggers who read it before.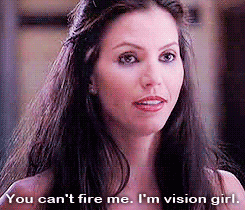 But what made up for the slower pacing at the beginning was the characters. I really enjoyed every single perspective here. And there were a lot of them. Sometimes it was a little jarring to switch mid-chapter between Meg, Simon, and any number of secondary characters but all the perspectives were enjoyable. It gave us a well-rounded look at the world and what was happening within it. This added a lot to the drama and gave you the sense that things were going to build to something huge and it definitely did. Plus seriously, they were all so likable. Meg was a fantastic main character in particular. She's out experiencing the world for the first time but has this basic understanding of it. She's like a time traveler or a foreign exchange students, slightly naive but curious and inquisitive. She doesn't fit into either world but also fits into both which is what makes her even more perfect. And while I liked Simon, for me he did seem a little cliche from time to time. He's your typical tough guy adviser romantic lead who has a heart of gold. Not my favorite trope but I did like him and Meg together. There were also some fantastic secondary characters. I am particularly fond of Henry, Sam, and Tess who were really great terra indigene who I want to learn more about.
On the whole Written in Red was a good first book in a series that I am interested in continue at some point. It had a fascinating world, interesting characters, and a lot of drama. It did suffer from First Book Syndrome but I'm interested in continuing on and seeing how everything develops.
I give Written in Red by Anne Bishop 8 out of 10 stars



Buy/Borrow/Bypass

: Borrow

(or buy the w-book for $1.99). Despite the fact that it took me a good two weeks, maybe more, to read this one because of the slower pace I did enjoy it. I would recommend this book to fans of Urban Fantasy or anyone looking for a book with supernatural creatures that doesn't feel like the same old thing.

Have you read Written in Red? What did you think? Leave me a comment with your thoughts. Thanks for stopping by and HAPPY READING!