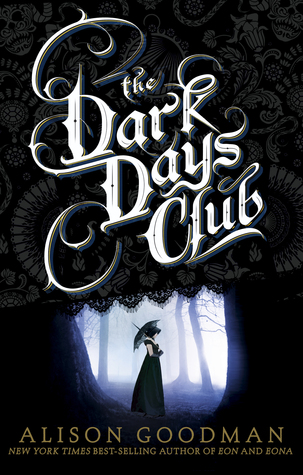 Title: The Dark Days Club
Series: Lady Helen #1
Written by: Alison Goodman
Published: January 26, 2016 by Viking (Penguin Group)
(
Amazon
/
Goodreads
)
Synopsis: New York Times bestseller Alison Goodman's eagerly awaited new project: a Regency adventure starring a stylish and intrepid demon-hunter!
London, April 1812. On the eve of eighteen-year-old Lady Helen Wrexhall's presentation to the queen, one of her family's housemaids disappears-and Helen is drawn into the shadows of Regency London. There, she meets Lord Carlston, one of the few who can stop the perpetrators: a cabal of demons infiltrating every level of society. Dare she ask for his help, when his reputation is almost as black as his lingering eyes? And will her intelligence and headstrong curiosity wind up leading them into a death trap?
I was sent an advance copy of this book from my bookish soul sister
Britt from Please Feed the Bookworm
(have you heard our podcast? We just started a podcast!
Listen here!
) around Christmas time and I was absolutely ecstatic. This is a total me book. Historical fantasy about a demon hunter in Regency England? Yes, please. It was a really entertaining read with a fun combination of history, mystery, and fantasy not to mention complex and likable characters but it didn't end up quite blowing me away.
If I were judging it based on it's historical aspects, it would have been a five star read. It's an incredibly well-researched book that takes the reader to Regency Era Britain. You can tell that the author took the time to make every aspect of this book historically accurate. From the interaction of the characters with real historical figures, to the dress, and every day life of the elite of the era it felt realistic and historical. Being a big fan of historical fiction I loved this aspect of the book. It allowed you to be immersed into the world and setting of the book. A setting that was lush and descriptive with history that was interesting and engaging. I particularly like historical fiction where the character is caught between two worlds or the world is modernizing around them. I felt like this with The Dark Days Club. The main character is caught between the expectations for her as a young woman of means and the world of The Dark Days Club. In this case the setting adds to the drama as much as the plot development does.
However if I were judging it based on it's fantasy elements I would have given it three stars. There was much less focus on that aspect of the story. It's always a delicate balance when it comes to these kind of books. You don't want to overwhelm one aspect of the book with the other. However I think maybe the historical stuff overwhelmed the fantasy. At times I felt like the world building and exposition felt like it was just info-dumps and that made it feel forced. Now don't get me wrong, I liked the world. I've heard the Buffy the Vampire Slayer comparison and I can see it, with the legacy the character has and the fact that she has to fight these creatures that most people don't know exist. And the demons were really unique too. It was interesting, it just didn't balance the aspects enough for my liking.
And that lack of balance lead to a bit of pacing issues too. There was so much focus on the historical aspects in the beginning that it took a while to get into the fantasy elements which is what the plot revolved around. Which is fine, I get that you need to build out the world but then when the fantasy plot development kicked in that felt a little sudden. There was so much build up and mystery throughout the book. I kept waiting for things to go down. I kept waiting for clues to be found and secrets to be revealed but that didn't really happen until way far into the book. And then when we finally reached the ending, it seemed a little rushed and sudden. The plot did have a lot of mystery and fantasy, it just didn't quite have that steady build up that I usually enjoy. But that also could have been because this is the first book in a new series. It was only just laying the groundwork for things that will be developed as the series continues. And I am interested to see where things go.
That being said, the book was redeemed a lot by the characters. Every one of them was complex and interesting. Some of them were more mysterious, others devious, and still others fun and easy-going. There are a lot of different characters here, many of whom are similar to the main character in that they populate both the world of society and the world of The Dark Days Club. And it was sometimes hard to keep them straight they did all add a new dimension to the book. I particularly liked Lady Helen. She was tough, intelligent, and plucky like my favorite female heroines but I liked that she was a bit of a reluctant hero and didn't want to be forced into anything in all the aspects of her life. It made her more sympathetic and relatable. There is a bit of a love triangle although much to my pleasure, the romance was not a big part of the story at all. I gravitated more towards the one side that's probably different from everyone else's pick, which I often do, but I can see people enjoying Lord Carlston as well. I just really enjoyed the fact that the romance was not involved. It allowed me to appreciate the characters more from a personal level.
On the whole Dark Days Club was a thoroughly entertaining book. It had a great historical setting, interesting fantasy elements, and complex characters despite a lot of exposition and world building that slowed down the pacing. It reads a lot faster than it's nearly 500 would lead you to believe and it was compulsively readable.
I give The Dark Days Club by Alison Goodman 8.5 out of 10



Buy/Borrow/Bypass:

Borrow

. I mean maybe buy it, the finished copy I'm sure will be gorgeous. The design elements are really great with lace borders on the pages. I really enjoyed this book and I'm excited to see where it goes. I would recommend it to fans of historical fiction especially if you are looking something with a hint of fantasy.

Have you read The Dark Days Club? What did you think? Leave me a comment with your thoughts. Thanks for stopping by and HAPPY READING!

(P.S. I cannot wait to watch Pride and Prejudice and Zombies. I loved the book so much and the movie looks great!)