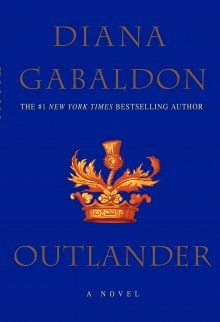 Title: Outlander
Series: Outlander #1
Written by: Diana Gabaldon
Published: Originally in 1991 by Delacorte Press (Random House)
(
Amazon
/
Goodreads / Audible
)
Synopsis: Claire Randall is leading a double life. She has a husband in one century, and a lover in another...
The year is 1945. Claire Randall, a former combat nurse, is just back from the war and reunited with her husband on a second honeymoon when she walks through a standing stone in one of the ancient circles that dot the British Isles. Suddenly she is a Sassenach—an "outlander"—in a Scotland torn by war and raiding border clans in the year of Our Lord...1743.
Hurled back in time by forces she cannot understand, Claire is catapulted into the intrigues of lairds and spies that may threaten her life, and shatter her heart. For here James Fraser, a gallant young Scots warrior, shows her a love so absolute that Claire becomes a woman torn between fidelity and desire—and between two vastly different men in two irreconcilable lives.
Why did I put this book off for so long? I even own a copy that I got a used book sale and I still never read it. Oh right, because there are 8 books in this series and they're all over 800 pages. I have been so intimidated by this series for a very long time. Well regardless, I'm glad I took the time to give it a try because I really enjoyed it. It's a fantastic adult historical fiction with lots of action and some great fantasy elements.
One of the things I really enjoyed about this book is the historical aspects. Historical fiction is one of my favorite genres. I honestly went into this book expecting it to be more of a fantasy series but it read much more like historical fiction. But maybe that's because the entire book was set in the past and not just a part of it. When you're dealing with a time travel book, like this one, it's usually someone in the present going into the past (or future) but here both time periods are set in the past. The author did a great job of setting the scene for both WWII and 18th Century Scotland. Most of the book was set in 1740's Scotland which was totally fine with me. There was so much drama not to mention it made a period and location I knew very little about which was super interesting. It's always great to explore a completely new period. Plus there were some subtle references and plot points about real history that it seems are going to come up more in later books.
But at the heart of this book, it's a time travel adventure. The setting and that narrative led to a really dramatic plot development. A lot of the book was about the main character finding her place in this society she knew nothing about. That's one of the things I love about stories where characters go back in time. They don't understand the practices of the people but they also try not to say or do anything that will reveal them. Claire unfortunately is not very good at that and actually uses her experience to her benefit which honestly makes this more interesting. But there was also a ton of thrilling action and drama. This is not a book for the faint of heart. There are many cringeworthy and/or adult scenes of violence and sexual content, often at the same time. And while I don't personally love that concept it was historically accurate and made me emotionally invest in the book and the characters.
But these characters didn't really need help being sympathetic and likable. I absolutely adored our main character is Claire. She was just a delight. Claire's such a strong female character. She's smart, resourceful, speaks her mind and can hold her own in a very male dominated world. She was ahead of her time for the 1940's so seeing her in the the 18th century is even more interesting. And then there is everyone's favorite Scot, Jamie Fraser. I get it, he's super dreamy. A real man's man but also a romantic at heart. He did have his moments where I didn't quite agree with him but I'm on board for him and his struggle. Plus Claire and Jamie were so great together. They had some great banter and butted heads in the best possible way. There was also some great secondary characters like the devious Black Jack Randall, the dubious Dougal Mackenzie, the odious Geillis Duncan, and Jamie's sister Jenny who could give her brother a run for his money in the tough and stubborn category. The characters within this series are without a doubt one of the best parts.

I was recommended the audiobook for this series and I honestly really liked it. It's long (32 hours) but very entertaining and the accents definitely help set the scene and the mood of the book. I'm not usually a big fan of heavily accented narration but here it worked. If you are an audiobook fan and are looking to read this series then I would suggest listening to the audio.

On the whole, Outlander was a great read with a complex historical setting, action-packed time travel adventure, and had wonderful characters I totally fell for. If you are at all interested in this series, I would recommend it. I'm glad I finally gave this series a try and am interested in continuing with the series although I'm not sure I will be able to do that any time soon.

Buy/Borrow/Bypass:

Buy/Borrow.

This is a great read I would recommend it to fans of historical fiction and/or romance. But if you don't like either then still give it a try. There is a lot of action and adventure too. I do want to once again mention that this is a heavy read and I don't mean that from a page count standpoint. There is a lot of violence and sexual content. This is firmly in the adult category. But it is really amazing so if you like those kinds of books, check it out.