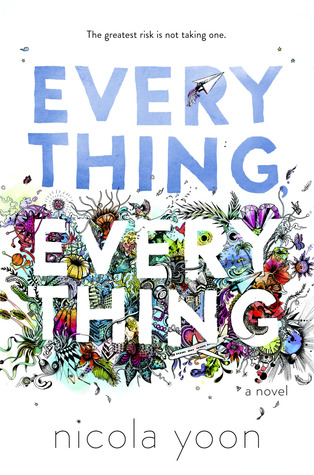 Title: Everything Everything
Written by: Nicola Yoon
Published: September 1, 2015 by Delacorte (Random House)
(
Amazon
/
Goodreads
)
Synopsis: My disease is as rare as it is famous. Basically, I'm allergic to the world. I don't leave my house, have not left my house in seventeen years. The only people I ever see are my mom and my nurse, Carla.
But then one day, a moving truck arrives next door. I look out my window, and I see him. He's tall, lean and wearing all black—black T-shirt, black jeans, black sneakers, and a black knit cap that covers his hair completely. He catches me looking and stares at me. I stare right back. His name is Olly.
Maybe we can't predict the future, but we can predict some things. For example, I am certainly going to fall in love with Olly. It's almost certainly going to be a disaster.
I decided to take part in the Debut Author Challenge this year because in 2014 I read so few debuts. The goal was to read 12 debuts. I knocked that out by early June so I decided to double that and read 24. But as the end of the year approached I realized I needed one more. So when my OTSP Secret Sister sent me a copy of this one a few weeks ago I decided to read it to complete that challenge.
I had really good things about this book and after trying and liking a lot of contemporary this year, I decided to give this one a try. Everything, Everything was a cute and fast contemporary read with interesting characters and much more drama than I expected.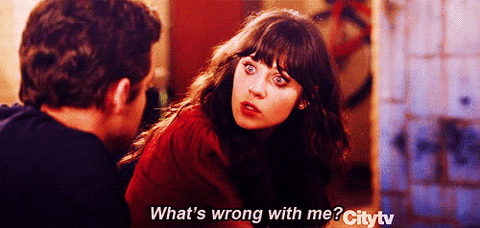 When the book started, I thought it might just be a simple romance. It seemed like the overdone "good girl meets bad boy who changes her worldview and she falls in love" or even worse "nerdy character meets quirky outgoing person who they instantly fall in love with." But this wasn't that kind of story. It had some of those elements but it felt realistic and not at all cliche. a lot of that had to do with the fact that in the end the plot of the book was much more than that. A lot of the plot of Everything, Everything was this idea of fear of missing out and identity. The main character feels stuck and lonely. She has only ever known one thing and when a new family moves in next door it makes sense as to why she would want something more, something different. It made for an interesting story. However it was almost a little too complex. There were some plot points that didn't quite resolve or they didn't particularly connect with the larger narrative of the book. But it was still an engaging and interesting read.
The characters were also more interesting than I expected. Madeline has spent practically her entire life in her home suffering from a disease that makes her allergic to everything. It's made her curious and questioning but she also really doesn't understand the world because she's never been out in it. It made her really sympathetic. She's also a big reader and that's kind of the way she relates to things, experiences from books she read. I could relate to those feelings and wanted her to get out there in the world but I also wanted her to be safe and happy inside. I loved watching her develop throughout the book. Olly was also a really unique character. Like I said before, I started out thinking he was going to be a bit of a cliche but he never came of that way. He was so kind and funny. Their relationship progressed fast but in never felt unrealistic or insta-lovey. There were also lots of interesting secondary characters that rounded out the cast and made for interesting and complex interactions for our main characters.
I think my favorite thing about this book was the format. I was very unique and engaging. It's written in a really interesting format. Everything is told from Madeline's perspective but it's not just her narrating her life and her experience. We get her explaining things but we also have email interchanges, drawings, and little graphs. I love that kind of format. It wasn't totally epistolary but somewhere in between that and a standard narrative. The chapters too were really short which made for really quick pacing and the kind of book where you would be telling yourself you could easily read one more chapter before realizing that you had read thirty pages. I finished only in a few days in between holiday travel and everything.
On the whole Everything, Everything was a fast and interesting read. It had a plot much more complicated than first perceived, characters that you can easily relate to, and a unique format.
I give everything, Everything by Nicola Yoon 8.5 out of 10



Buy/Borrow/Bypass

: Buy/Borrow.

I enjoyed this book more than I thought I would despite a few things that I didn't totally love. I would recommend to YA contemporary readers or anyone looking for a book that deals with teen identity.

Have you read Everything, Everything? What did you think? Leave me a comment with your thoughts. Thanks for stopping by and HAPPY READING!