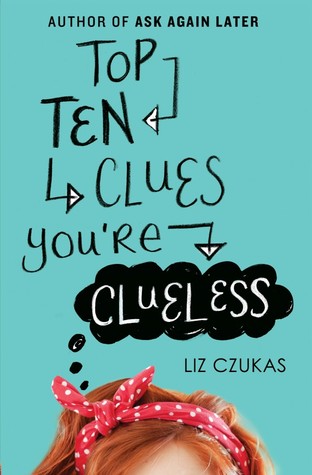 Title: Top Ten Clues You're Clueless
Written by: Liz Cxukas
Published: September, 2014 by HarperTeen
(
Amazon
/
Goodreads
)
Synopsis: Top Five Things That Are Ruining Chloe's Day
5) Working the 6:30 a.m. shift at GoodFoods Market
4) Crashing a cart into a customer's car right in front of her snarky coworker Sammi
3) Trying to rock the "drowned rat" look after being caught in a snowstorm
2) Making zero progress with her crush, Tyson (see #3)
1) Being accused—along with her fellow teenage employees—of stealing upwards of $10,000
Chloe would rather be anywhere than locked in work jail (aka the break room) with five of her coworkers . . . even if one of them is Tyson. But if they can band together to clear their names, what looks like a total disaster might just make Chloe's list of Top Ten Best Moments.
When I closed this book the first thing that came to mind was "that was really cute." I'm not a huge fan of YA contemporaries but this was definitely a year full of really good ones for me and I'm slowly starting to change my opinion of them, which is great. And Top Ten Clues You're Clueless is just one more on a list of fun contemporary novels that I read and really liked this year.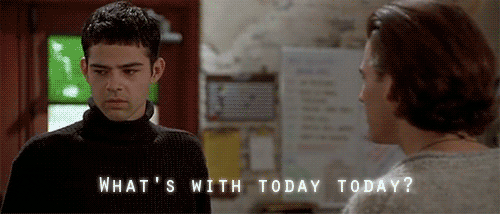 Part of what I enjoyed about this book was the plot development. It was a little on the basic side of things but entertaining. I actually decided to impulsively start this after being kind of deadlocked in a pretty complex book that I was reading to quench my palate so to speak and that's exactly what this book did. In a few hours I was about 100 pages in and really liking it. The concept of being stuck in "work jail" on Christmas Eve was very reminiscent of The Breakfast Club and Empire Records which I'm a big fan of so right there that was a huge plus. And it also had a hint of mystery which was cool. I appreciated the mystery though it was very simple and as a fan of mysteries I would have liked something a little more substantial. But on the whole there was so much going on in this book and it all worked together well to create a fun and entertaining story.
The characters were also really fun and engaging. This is one of those ragtag group of misfits coming together kind of stories. Yeah, they can be kind of cliche sometimes. And yes, there were some moments when the characters interactions and revelations felt forced and unrealistic bit it worked. I really like the concept. One of the things I like about those kinds of stories is that the characters are really diverse and you can always find someone like you and someone totally different from you to connect with. That's definitely what happened for me in this this book. Each member of the group was complex and likable. I was particularly fond of Micah, a homeschooled naive optimist, Tyson, the black guy who is so sweet and kind, and Zaina who is the strong silent type Muslim. It's pretty easy for these characters to come off as caricatures but they never did. However the heart of the story was Chloe who is awkward and adorable in the best possible way. Although the not telling anyone about her diabetes thing was very Babysitter's Club. The diverse and quirky cast of characters was one of the great things about this book.
I also really enjoyed the setting for this book. It all takes place in a supermarket during Christmas Eve. Now I'm not one for the pomp and circumstance around holidays so this was the perfect holiday book for me because it wasn't all about Christmas, and snow, and special things happening this time of year. It was just another super busy day at the store. Which actually was the best part. The first half of the book when the store was open I felt like I could relate to the hustle and bustle, doing odd jobs you don't really like, and the fun of working with people your own age that you basically just met. I never worked retail but it reminded me of one of my all-time favorite jobs, when I worked at a Six Flags. Plus then when the store closes and they are left alone that was fantastic as well. Another thing you see a lot but it's so fun. It just all made for a fun setting for this book and added to it's charm.
On the whole, this is a fast and fun contemporary read with an engaging plot, a quirky diverse cast of characters, and a fun setting. Despite the fact that the mystery was really basic and some of the interactions felt odd it was a good read that only took me a matter of hours to read.
I give Top Ten Clues You're Clueless by Liz Czukas 9 out of 10
Buy/Borrow/Bypass: Buy.
As someone not really a big fan of contemporaries (but enjoying them more and more) I would definitely recommend this one. It's a fun read that you can fly through. It's perfect for fans of YA contemps or anyone looking for a good palate cleanser.
Have you read Top Ten Clues You're Clueless? What did you think? Leave me a comment with your thoughts. Thanks for stopping by and HAPPY READING!