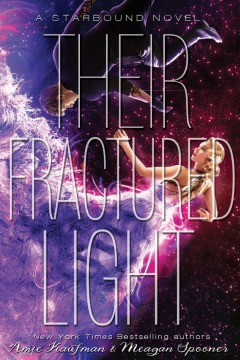 Title: Their Fractured Light
Series: Starbound #3
Written By: Amie Kaufman and Meagan Spooner
Published: December 1, 2015 by Disney Hyperion
(
Amazon
/
Goodreads
)
Synopsis: A year ago, Flynn Cormac and Jubilee Chase made the now infamous Avon Broadcast, calling on the galaxy to witness for their planet, and protect them from destruction. Some say Flynn's a madman, others whisper about conspiracies. Nobody knows the truth.
A year before that, Tarver Merendsen and Lilac LaRoux were rescued from a terrible shipwreck—now, they live a public life in front of the cameras, and a secret life away from the world's gaze.
Now, in the center of the universe on the planet of Corinth, all four are about to collide with two new players, who will bring the fight against LaRoux Industries to a head. Gideon Marchant is an eighteen-year-old computer hacker—a whiz kid and an urban warrior. He'll climb, abseil and worm his way past the best security measures to pull off onsite hacks that others don't dare touch.
Sofia Quinn has a killer smile, and by the time you're done noticing it, she's got you offering up your wallet, your car, and anything else she desires. She holds LaRoux Industries responsible for the mysterious death of her father and is out for revenge at any cost.
When a LaRoux Industries security breach interrupts Gideon and Sofia's separate attempts to infiltrate their headquarters, they're forced to work together to escape. Each of them has their own reason for wanting to take down LaRoux Industries, and neither trusts the other. But working together might be the best chance they have to expose the secrets LRI is so desperate to hide.
*** This is the third book in a series so if you haven't read
These Broken Stars
and
This Shattered World
, do that before you read this. Also why haven't you read them? They're fantastic! *****
When I closed this book, the only thing that came to mind was... Brilliant! Why should I have expected anything less for the conclusion of a series that has been genius from start to finish. I read the first two books in this series last year and was blown away by the plot, the characters, the world, the romance. It's such a fantastic series. So after rereading the first two books in November, I was excited and nervous to pick up the conclusion of the series. Amie and Meagan did not disappoint.
The plot development was unsurprisingly fantastic. I've always been blown away with the twists and turns this series takes. Being that this is the final book in the trilogy I was ready for the craziness. I had my theories and concerns, but this definitely exceeded my expectations. Everything really escalates and the stakes are so high. It was seriously non-stop action and I couldn't put the book down. There were a few lulls where the pacing and plot development would plateau before escalating again and in the beginning it took some time to get invested but sometimes that's not such a bad thing. But even better than the action was the way it all connected. The plotting was so intricate that little things from the first two books really came into play and there were lots of references that hearkened back to the way it all began. I love when series end in this really great full circle way and that's just what happened here. It also had some greats twists and an emotional conclusion. All these books have really gutted me at one time or another and this one was no different. There was more than one surprise and punch to the feels along the way of course.
But plot points were not the only thing from the previous books back in this one. All the characters from all the books came together in a big way which is always great for a series ender. This book had some serious squad goals and I loved seeing Lilac, Tarver, Flynn, Lee again. It was also great meeting new characters. Gideon and Sofia were fantastic as well. I thought the authors did a really great job here of letting you get to know the two new protagonists before pulling in the old favorites. I definitely fell in love with Gideon and Sofia in the beginning. They both had such distinct voices and were so similar but different at the same time. They're both so smart and savvy but while Sofia is a people person, Gideon is all about technology. They didn't seem as opposites attract as the other two but their secrets and our knowledge of said secrets added to a sense of dramatic irony which I liked and there was some really great banter between. Their relationship was really great and I liked seeing it develop during the book. And once again Amie and Meagan showed just how fantastic they are at creating complex and interesting characters.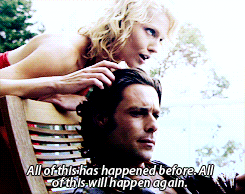 The world of this series is also really complex and interesting. The first two books in the series took us to newer planets that were being developed but in Their Fractured Light we were taken to the center of the universe, so to speak. In this book we got to explore Corinth, the planet where LaRoux Industry is located and it's like the center of culture and technology for all the planets. And like all major cities it has it's high class citizenry and it's seedy underbelly. Seeing every aspect of the planet was really fantastic. But what I liked most about it is that despite the fact we are going to a different location it narrowed the focus of the world instead of expanding it (something I often don't like about series conclusions). Because Corinth is really a focal point for everything having it be the location of the final book really worked to add color and understanding to the larger world of the series. We also got to learn a lot more about some of the characters in play within the world like Roderick LaRoux and the infamous whispers which we once again saw in action this time on a much bigger scale. The between chapters stuff was so fantastic this time around too. The world of this series is just so fascinating and unique.

Amie and Meagan have created a thrilling Science Fiction series and Their Fractured Light was a brilliant conclusion to that story. I loved it so much. From the characters that you connect with and root for, to the thrilling plot full of action, to the complex world full of mystery. It was all brilliant and I loved it.

Buy/Borrow/Bypass

: BUY!

Absolutely buy this book. Fans of the series will not be disappointed with the conclusion of this series. It takes things to the next level and wraps it all up in a fantastic full circle way. The book is full of action and mystery but there's so much humor and romance as well. Get ready for all the feels!

Have you read Their Fractured Light? What did you think? Leave me a comment with your thoughts. Thanks for stopping by and HAPPY READING!