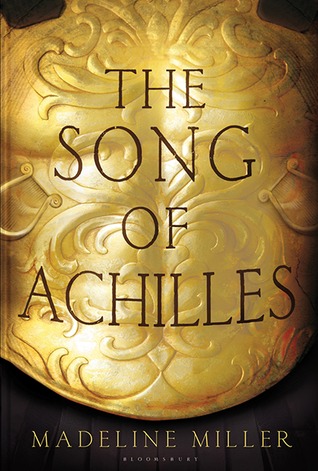 Title: The Song for Achilles
Written by: Madeline Miller
Published: September, 2011 by Bloomsbury
(
Amazon
/
Goodreads
)
Synopsis: Greece in the age of heroes. Patroclus, an awkward young prince, has been exiled to the court of King Peleus and his perfect son Achilles. Despite their difference, Achilles befriends the shamed prince, and as they grow into young men skilled in the arts of war and medicine, their bond blossoms into something deeper - despite the displeasure of Achilles' mother Thetis, a cruel sea goddess.
But when word comes that Helen of Sparta has been kidnapped, Achilles must go to war in distant Troy and fulfill his destiny. Torn between love and fear for his friend, Patroclus goes with him, little knowing that the years that follow will test everything they hold dear.
I have always been a big fan of Greek mythology and Homer. So when I saw blogger friends (first
Tracy
, then
Nikki
, then
Katie
) raving about this book I knew I had to read it. It's a fantastically written look at the story of Achilles, told through the eyes of Patroclus that has an exciting and emotional ending.
If you're familiar with Achilles, and let's face it who isn't, then you know how this story goes. If you are familiar with the Iliad then you know how the story goes for Patroclus. It's not really a happy ending. But what Madeline Miller does so well here is that despite the ending looming in the back of your mind you can still lose yourself in the story and the characters. She does such a great job of making both Achilles and Patroclus sympathetic. Achilles is torn with his desire for glory in battle and his desire to be normal. He almost feels like this is all he is good at, all he is good for, and you can't help but feel for him. But because he doesn't really want this role he has been thrust in, he's not a blood-thirsty warrior. He's thoughtful and kind. Patroclus however is not the excellent warrior (but he's good) always having to be in Achilles shadow. He doesn't mind that at all. He too is kind and compassionate but not afraid to speak his mind. He's almost Achilles' conscience but that's a role that both allow him to be in. And while they were good apart, together they were wonderful. I really loved seeing their relationship develop throughout the book which made that ending all the more difficult.
The author also did a great job with the secondary characters. The Iliad has a lot of different people and they all really come here, especially Achilles mother Thetis, the Greek generals like Agamemnon. Menelaus, and Odysseus, as well as the Trojans like Hector and Priam. Here characterizations were a definite plus. The characters were well-rounded and easy to connect with.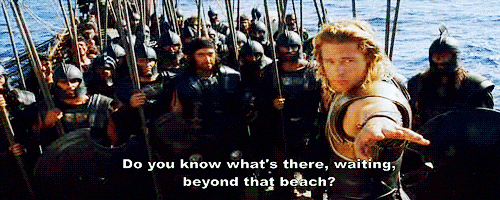 The plot development here was also really good. I will say however that this book is very light on the war aspect of the story. I was expecting it to be a little bit more about the actual fight with the Trojans but it didn't cover much of that at all. Maybe the author thought Homer already had that covered. Even when we get to Troy and are deep in the Trojan war, that isn't the focus of the book. Most of the book was about Achilles and Patroclus growing up and the side of our fearless hero that we don't often get. Think about it like the Disney movie Hercules but heavier on the back-end stuff and with more training montages. What the author does brilliantly is take a story we think we know so well and tell it in a very different way just by shifting the perspective. Making Patroclus the narrator gives it an even more tragic feel. I did think that some parts in the beginning were a little slow from a pacing standpoint but in the end it all made all the more impact. This book kind of works it's way into your heart and soul. It's a much more character-driven story than I expected and with characters this good it's hard not to be connect and enjoy it.
But the plot development and the deep connection with the book was also helped by Madeline Miller's writing style. I'm not usually one who cares much about prose. It can be utilitarian or purple, as long as I understand what's happening and has a good flow to it then I'm on board. Here the writing definitely veers to the purple side of the spectrum but it worked so well. The beautiful writing was contrasted by the impending doom of the plot development. Plus I felt like it really worked with the narrator. You got the sense of Patroclus' affection for Achilles based on the poetic beauty of the writing. It all worked together to create a story that was compelling and emotional in the best possible way.
On the whole, The Song for Achilles is a beautiful and brilliant novel with characters who are well-rounded and sympathetic, an interesting and character-driven plot development, and gorgeous writing that will work it's way into your heart just in time for the ending you knew was coming all along.
I give The Song of Achilles by Madeline Miller 9.5 out of 10 stars



Buy/Borrow/Bypass:

Buy!

This is a must-read especially if you are a fan of Greek mythology or retellings that give you the story from an often overlooked perspective. It's a great character-driven book with beautiful writing and I would absolutely recommend it.

Have you read The Song of Achilles? What did you think? Leave me a comment with your thoughts. Thanks for stopping by and HAPPY READING!