Last month I decided to do a Stacking the Shelves at the end of the month just sort of like a monthly book haul and I liked it so much I decided to do it again. I am still on a book buying ban but I did buy a few books this month and got some really great review books that I'm excited about. So here are the books.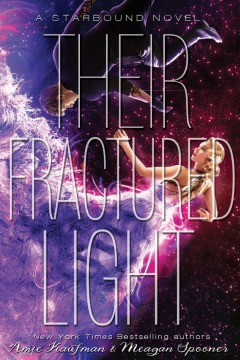 1.) Their Fractured Light by Amie Kaufman and Meagan Spooner
- (
Add to Goodreads
/
My Review
)
I pre-orded this one because i was so excited to finish this trilogy. It was amazing.
This looks like a really interesting LGBTQIA coming of age story of identity. Plus it's a debut which is great because I'm doing the Debut Author Challenge again. Thanks Macmillan!
I loved Mary Kubica's debut and I have a copy of her second book I still need to read but this one sounds really good thriller. Thanks Harlequin.
I'm still dead because I got an ARC of this one. It's one of my most anticipated sequels. I need to know what happens to Joanna and Rafi and all the characters! Thanks Simon and Schuster!
The Song of the Lioness Quartet by Tamora Pierce
- (
Add to Goodreads
)
My OTSP Secret Sister got me the entire quartet this month which is amazing! I cannot wait to read this series finally.
Everything, Everything by Nicola Yoon
- (
Add to Goodreads
)
This one came from my Broke and Bookish Secret Santa. I needed one more debut for the year and I was excited for this one so I read and enjoyed it.
The Knife of Never Letting Go by Patrick Ness
- (A
dd to Goodreads
)
Also from my Secret Santa. I read my first Patrick Ness this year and wanted to read more. I've heard good things about this series so I'm excited to read it.
Salt to the Sea by Ruta Sepetys
- (
Add to Goodreads
)
Britt from Please Feed the Bookworm is amazing and sent me a copy of this book because she had two and knew I was interested in reading it.
Dark Days Club by Alison Goodman
- (
Add to Goodreads
)
Britt also sent me this one because she's awesome, like I said. This sounds like such a me book too. She knows me so well.
See How They Run by Ally Carter
- (
Add to Goodreads
)
This was also from my Secret Sister as a Christmas gift. She pre-ordered it for me and it was waiting for me when I got to my parents' place. I started it this morning.
The Last Unicorn by Peter S. Beagle
- (
Add to Goodreads
)
The only book I got from my family. My brother got me a copy of this book and I'm so excited because I love this story.