****This book is a sequel. If you haven't read
The Fixer
, proceed with caution. Also if you haven't read The Fixer, seriously get on that because it's fantastic.
Here's my review
****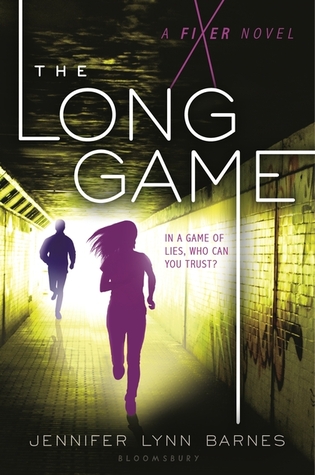 Title: The Long Game
Series: The Fixer #2


Written by: Jennifer Lynn Barnes




Published: June 7, 2016 by Bloomsbury




(

Amazon

/

Goodreads

)



Synopsis: Tess Kendrick, teen fixer extraordinaire, returns in a pulse-pounding thriller about a deadly conspiracy at the heart of Washington.



For Tess Kendrick, a junior at the elite Hardwicke School in Washington D.C., fixing runs in the family. But Tess has another legacy, too, one that involves power and the making of political dynasties. When Tess is asked to run a classmate's campaign for student council, she agrees. But when the candidates are children of politicians, even a high school election can involve life-shattering secrets.





Meanwhile, Tess's guardian has also taken on an impossible case, as a terrorist attack calls into doubt who can--and cannot--be trusted on Capitol Hill. Tess knows better than most that power is currency in D.C., but she's about to discover first-hand that power always comes with a price.





Perfect for fans of Harlan Coben and Ally Carter, the second book in this thrilling series will leave readers breathless.

*** I received an advance copy of this book from the publisher via Edelweiss. This fact has not changed my opinion. ***

This book is so complicated in the best possible way. I loved The Fixer for being a really solid YA political thriller and The Long Game was just like that, but more. More action, more thrills, more surprises, and more mystery. The Long Game did not disappoint.

One of the things I love about this series is the characters. It's been called Veronica Mars meets Scandal and there have never been a more apt description. The Veronica Mars of this equation is our main character Tess Kendrick. I very quickly fell in love with Tess in the first book so here it was great catching up with her and seeing her in action, solving mysteries and fixing problems. She's a smart and sassy teen detective that stands up for those she cares about. But she's also vulnerable, rash, reckless, and constantly getting stuff wrong. I love how complex she is. But she's not the only one.

The Scandal description is because this book is really about the Washington elite and their dealings, which often involves corruption and so much interconnected scheming. A lot of that comes to a head at the school that Tess goes to which is made up of the children of these politicians and wheelers and dealers. There are so many fantastic secondary characters here that are odious and interesting. I love all Tess's friends at the school especially Asher who needs more screen time because he's such a great balance for some of the more serious characters. Tess' sister Ivy is an Olivia Pope-like fixer but Ivy really took a back burner in this book and so did a lot of the other politicians that were a big part of the first book. There was something bigger and even more sinister at play here and it was up to Tess to solve these problems which made it even more interesting and thrilling.

Just like in The Fixer, the plot of this book is full of secrets and intrigue that manifests in an incredibly complicated mystery. It had me seriously guessing from start to finish who was involved and how. I like being able to solve mysteries but just like Veronica Mars I eventually gave up and decided it was better to be along for the ride and let it all unfold. And boy did it unfold. There were so many crazy surprises throughout this book and I seriously could not put it down because everytime I thought there couldn't possible be something else coming, that's exactly what happened. From the word go this book took you on a thrill ride full of mystery and it didn't let you go. Like not even when the book was over did it let you go.

But that being said, I think the pacing may have been a little too much. There was a lot going on. A lot of moving parts to the book that didn't always work together well and flow in a way that felt cohesive. There was a lot of action for sure, which I liked, but things sometimes moved so fast that I didn't have time to register why certain things were happening. It did all come together in the end but the specific plot of this book and the larger plot of the series did kind of feel separate for most of the book. My biggest criticism for this series has always been that it leaves you with a non-resolved resolution and that's what I felt again here. I don't necessarily need it in a tiny bow but if it's going to attempt to wrap there should be no feelings of uncertainty. But it also left me needing a third book so badly. I need there to be a resolution here and for certain things to be validated and vindicated,

On the whole I absolutely loved this book. It really is a brilliant YA political thriller and I seriously hope there is a third book because there is more going on here and I need to know what happens next. I need more Tess in my life.

Buy/Borrow/Bypass

: Buy.

If you liked The Fixer you will not be disappointed by this sequel. And if you like YA mysteries that have you questioning everything, political thrillers, or want something to get you through until Scandal comes back in the fall check out this series. It's fantastic!

Have you read The Long Game? What did you think? Leave me a comment with your thoughts. Thanks for stopping by and HAPPY READING!