Well I started the month really strong and then got a reading surge after BEA but I ended up being at my average amount of books read, which considering BEA and not reading much for 4 days, that's pretty good. But that being said, I also really loved a lot of the books I read. Like I loved them more than I expected I would. I only had two three star reads this month and one of them was a reread. But I also didn't have many that super blew me away. A few five stars but none that are new favorites. When it was all said and done, I read 13 new books this month and 2 rereads for a total of 14 books.
As far as challenges go, I'm still doing well. I'm majorly ahead for my Goodreads goal of reading 150 books this year, which is still exciting. I may see if I can do it without rereads but we'll see when it gets closer. I'm also ahead of my goal for the
Debut Author Challenge
of reading 25 debuts by reading 3 debuts again this month for a total of 15 for the year. I'm also ahead for the
Netgalley/Edelweiss Challenge
having once again read 4 books for that challenge reaching a total of 21 towards my goal of 36, at this point I'm thinking I can hit my secondary goal of 50 although I tend to slow down on NG/EW in the fall because of BEA books. And I'm also on track for the
Rock My TBR Challenge
by reading 4 books for that this month getting a total of 13 towards my goal of 25 for the year. And finally, the
Audiobook Challenge
. I listened to 3 audiobooks this month including rereads, giving me a total of 18 for the year which is ahead of my goal of 30 or more. I am still killing these challenges, which is great because I am so competitive.
1.) Gena/Finn by Hannah Moskowitz and Kat Helgeson
Rating: 9 out of 10 [
My Review
]
2.) Devil and the Bluebrd by Jennifer Mason Black
Rating: 8 out of 10 [
My Review
]
3.) The Rose and the Dagger by Renee Ahdieh
Rating: 9 out of 10 [
My Review
]
4.) Roses and Rot by Kat Howard
Rating: 9 out of 10 [
My Review
]
5-8.) The Song of the Lioness Quartet by Tamora Pierce
Rating: 9 out of 10 [
My Review
]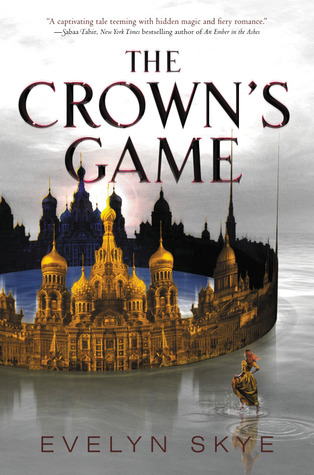 9.) The Crown's Game by Evelyn Skye
Rating: 9.5 out of 10 [
My Review
]
10.) The Art of Being Normal by Lisa Williamson
Rating: 8.5 out of 10 [
My Review
]
11.) The Only Thing Worse Than Me is You by Lily Anderson
Rating: 9 out of 10 [
My Review
]
12.) The Sleeping Prince by Melinda Salisbury
Rating: 9 out of 10 [Review to Come]
Rereads:
To Be Read in June: Mystery
I am so stressed by my TBR Pile and the amount of books I want to read versus the amount of books I can read. If you follow me on twitter you saw me mention that I can't decide what to read because I have been hoarding mysteries so this month and when I looked at my list I became instantly overwhelmed. It's twice my typical list. I have also still stressed out by the amount of books I have to review so... *tries not to panic* Last month I just put everything I want to read up but this time I have to be more selective. So here is list of the books I am hoping to read. It is a bit more than usually but we'll see what happens.
The Unexpected Everything by Morgan Matsom
-
Add to Goodreads
This isn't a mystery but I have been saving it. I'm excited to read it now that it officially feels like summer.
Rocks Fall, Everyone Dies by Lindsay Ribar
-
Add to Goodreads
I've heard this one is weird and interesting which I love. I'm probably going to listen to it on audio because I like the narrator.
Nil on Fire by Lynne Matson
-
Add to Goodreads
The finale to the Nil series came out yesterday and I'm really excited to read it. This is such an interesting series, like YA Lost and I love it.
Ivory and Bone by Julie Esbaugh
-
Add to Goodreads
I'm excited about this book because it's prehistoric. Like I don't know if I should call it historical fiction or not.
And Then There Were None by Agatha Christie
-
Add to Goodreads
Don't ask me how long this book has been on my list because I don't remember. It's been a long time. I haven't read any Agatha Christie
Dangerous Boys by Abigail Haas
-
Add to Goodreads
I've had this book on my list for awhile now, especially after loving Dangerous Girls. I'm hoping to read it now for the Rock My TBR Challenge
I started this in May but I'm not finished yet so I'm adding it to this list because the review won't be out for a few days.
The Long Game by Jennifer Lynn Barnes -
Add to Goodreads
I loved The Fixer, I thought it was a fantastic YA thriller/mystery. It's much more political which I liked. This is the sequel and it comes out next week.
Don't You Cry
by Mary Kubica
-
Add to Goodreads
I loved Mary's debut, The Good Girl, but despite having her other two books I still haven't read them. But I got the audio for this one so I'm listening now.
American Girls by Alison Umminger
-
Add to Goodreads
This is a debut and it sounds like a really interesting contemporary. I think there may be mystery elements, I'm not sure. Only time will tell.
Cure for the Common Universe by Christian McKay Heidecker
-
Add to Goodreads
Speaking of interesting contemporaries, this one takes place in a video game rehab. Plus when I asked Twitter to help me pick, Eileen from BookCatPin picked this one.
The Leaving by Tara Attleboro
-
Add to Goodreads
I wasn't sure I was going to read it because I heard it might be about aliens. But Michelle assures me that I should read it so it's back on the list.
All the Missing Girls by Megan Miranda
-
Add to Goodreads
I've heard good things about the author and so I got a review copy of this one so that I could giver her a try. Plus it seems like a good summer mystery for me.

Paper and Fire by Rachel Caine
-
Add to Goodreads
This is one I am so so excited to read. It is one of my most anticipated sequels and I have a copy that I got from the publisher so I cannot wait!
And I Darken by Kiersten White
-
Add to Goodreads
Another one I am so so excited to read. This is a dark historical fiction about a genderbent Vlad the Impaler living in the court of Sultan Mehmed. Can't wait!
Baby Doll by Hollie Overton
-
Add to Goodreads
I picked this up at BEA and it sounds like an interesting mystery/thriller. I probably won't get to it but in case I do, it's on the list.
The Fixer by Jennifer Lynn Barnes -
My Review
I want to listen to the audio for this before I read The Long Game. But considering I already started an audiobook for this week that may not happen.
Ink and Bone by Rachel Caine -
My Review
I need a refresher on this book before I read Paper and Fire plus I'm super curious about this audio. It seems like one that would work really well in that format.
There you have it. All the books I might read in June. Consider all of these potential reads. There is no way I can read 18 books this month (and I actually cut this down a little bit), but I'll do what I can. Leave me a comment with your thoughts. Thanks for stopping by and HAPPY READING!