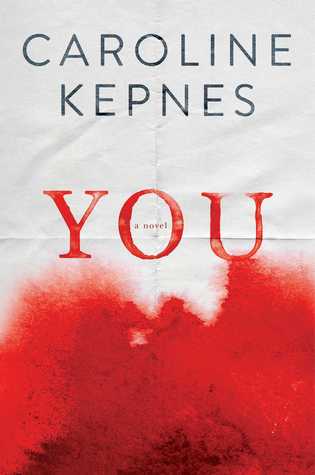 Title: You
Series: You #1
Written by: Caroline Kepnes
Published: June 28, 2016 by Delacorte Press (Random House)
(
Amazon
/
Goodreads
)
Synopsis:
When a beautiful, aspiring writer strides into the East Village bookstore where Joe Goldberg works, he does what anyone would do: he Googles the name on her credit card.
There is only one Guinevere Beck in New York City. She has a public Facebook account and Tweets incessantly, telling Joe everything he needs to know: she is simply Beck to her friends, she went to Brown University, she lives on Bank Street, and she'll be at a bar in Brooklyn tonight—the perfect place for a "chance" meeting.
As Joe invisibly and obsessively takes control of Beck's life, he orchestrates a series of events to ensure Beck finds herself in his waiting arms. Moving from stalker to boyfriend, Joe transforms himself into Beck's perfect man, all while quietly removing the obstacles that stand in their way—even if it means murder.
I had heard great things about this book so I snagged the audio from the library. I'm glad I did because this book is dark. Dark and creepy and vulgar and one of the best thrillers I have read in a long time.
This book is a roller coaster ride of emotions and thrills. I usually prefer a book that slowly builds to an exciting conclusion and this was not like that. Sure, it had a fantastic ending that had me terrified and on the edge of my seat but it didn't slowly get there. It hit you with something and then brought you down, then back up again when you least expected it. But it wasn't badly paced. It was all part of the experience. This is the kind of book that benefited from that kind of uncertainty and unexpected twists and turns. It made for a very thrilling read.
But this is a psychological thriller and therefore had some absolutely insane characterizations. Being inside the head of Joe Goldberg is not a fun place to be. He is a creepy, narcissistic, sociopath. But that makes him such a compelling antihero. I spent so much of the book wanting to tell him not to do what he was doing, to stop being such a creep, and to just move on. But at the same time I sympathized with his jaded dislike of others. The best parts of him connected to the worst parts of me. It was such a strange feeling to empathize and understand where a character is coming from and at the same time be so terrified of them.
And Santino Fontana, the narrator of the audio, really brought Joe to life. A lot of why I think I liked him in those rare moments were because of Santino. He made this character feel so real and that was what made him so interesting and complex. You felt the highs and the lows of his personality. When he was annoyed, you were annoyed. When he was excited, you were excited. When he was angry, you were nervous. It made for such an emotional read. And frankly it may have ruined Santino for me. How can I watch Crazy Ex-Girlfriend without thinking about this book now? Dammit, I love that show and I love him on it.
The other really unique thing about this read is the format. It's not totally in second person but it is sort of in that narrative style. Joe frequently refers to "you" and as a reader sometimes you forget that he means Beck and not you, the reader. And that makes things all the more terrifying and creepy. This is not a guy you want referring to and interacting with you. And the format just makes for such an interesting thriller. I have been reading a few books written in this style lately and I definitely enjoy it. It makes for an immersive experience and with a book that is full of thrills that is engaging.
But I do feel like this book has to come with a bit of a warning. It is not for the faint of heart though. It is dark and vulgar and slightly gruesome. There is a lot of sex and violence. As a typically YA reader I have to warn you that this book is far from clean. It's creepy and gross and will make you cringe quite often throughout the book. But that kind of added to the thrills. It felt so raw in that way. And even more like something I shouldn't be enjoying.
But I did enjoy it. I enjoyed it a lot. On the whole this was a complex and dark thriller. It had me on the edge of my seat from beginning to end and I absolutely loved it.
I give You by Caroline Kepnas 9.5 out of 10 stars



Buy/Borrow/Bypass

: Buy!

This book is really fantastic. I would definitely recommend it to fans of psychological thrillers and anyone who likes books about antiheroes and murderers. I would also totally recommend the audio. It's a great format for the book and a great narrator.

Have you read You? What did you think? How creeped out were you by reading it? Leave me a comment with your thoughts. Thanks for stopping by and HAPPY READING!