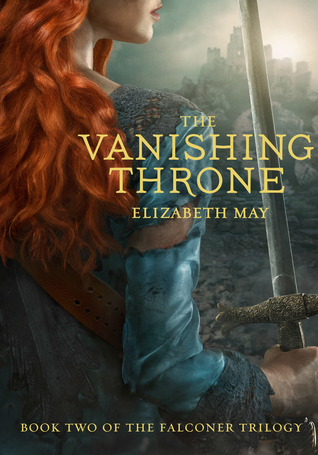 Title: The Vanishing Throne
Series: The Falconer #2
Written by: Elizabeth May
Published: June 7, 2016 by Chronicle
(
Amazon
/
Goodreads
)
Synopsis: The second book in the Falconer trilogy is packed with surprises and suspense.
Aileana Kameron, the Falconer, disappeared through the portal that she was trying to close forever. Now she wakes up in the fae world, trapped and tortured by the evil Lonnrach. With the help of an unexpected ally, Aileana re-enters the human world, only to find everything irrevocably changed. Edinburgh has been destroyed, and the few human survivors are living in an uneasy truce with the fae, while both worlds are in danger of disappearing altogether. Aileana holds the key to saving both worlds, but in order to do so she must awaken her latent Falconer powers. And the price of doing that might be her life.
Rich with imaginative detail, action, fae lore, and romance, The Vanishing Throne is a thrilling sequel to The Falconer.
*** I received an advance copy of this book from the publisher via Edelweiss. This fact has not changed my opinion. ***
I was so excited about this book. The way The Falconer ended I needed to read the sequel, to know what happens. And while I really enjoyed the next installment, it did suffer from a bit of second book syndrome to me but on the whole, I really enjoyed this historical fantasy and the characters that inhabited it.
One thing I did love about this book was the world-building. This series continues to impress me with it's combination of history and fantasy. This one felt much more like a fantasy however. I'm not a big fan of stories about the fae, but this one I absolutely love. In The Vanishing Throne we learn a lot more about the fae and their history and it was fantastic. Everything I learn and see about these faeries and their dark and vengeful full nature makes me like it even more.
I also love the characters in this series. I very quickly fell for Aileana in The Falconer and seeing her in action here made me like her even more. What U like so much about her is that she is a well-rounded character with strengths and weaknesses. Here she is incredibly vulnerable feeling guilt for what happened in the first book but also shows strength in helping herself and others. I loved seeing Aileana in action throughout this book, especially when it came to the more action-packed scenes.
Then we have the fae. This series is full of fantastic secondary characters. First the antagonists who are particularly diabolical here which is great. Of course you have Kaidan who is back and even more mysterious and interesting. Shippers will love his relationship with Aileana. Derrick is also black with lots of humor and affects the story in a big way. But I think my favorite character as a new one, Aithinne, Kaidan's sister who is just as mysterious but even more powerful and has much more humor.
But that being said, I did find this book on the slower side. It took me much longer than I expected to get into the plot of the book and I didn't even know where things were heading until about half way into the book. There was a lot of exposition which slowed the pacing down quite a bit. It did ultimately end on an exciting conclusion that left me needing more with such a horrible ending as the first book, but it just took a long time to get there.
On the whole The Vanishing Throne, despite having some plot and pacing issues, was an entertaining sequel to a series that I am totally loving. I cannot wait to see how it ends in the finale.
I give The Vanishing Throne by Elizabeth May 8.5 out of 10 stars



Buy/Borrow/Bypass:

Buy/Borrow.

If you liked the first book in the series then you will definitely enjoy the next installment, especially if you wanted more fantasy elements and less historical fiction. If you like YA historical fiction then check this series out, it is an incredibly entertaining story.

Have you read The Vanishing Throne? What did you think? Leave me a comment with your thoughts. Thanks for stopping by and HAPPY READING!