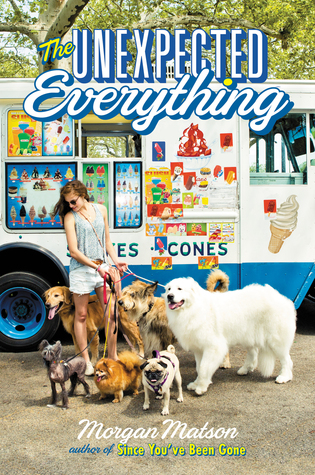 Title: The Unexpected Everything
Written by: Morgan Matson
Published: May 31, 2016 by Bloomsbury
(
Amazon
/
Goodreads
)
Synopsis: Andie had it all planned out.
When you are a politician's daughter who's pretty much raised yourself, you learn everything can be planned or spun, or both. Especially your future.
Important internship? Check.
Amazing friends? Check.
Guys? Check (as long as we're talking no more than three weeks).
But that was before the scandal. Before having to be in the same house with her dad. Before walking an insane number of dogs. That was before Clark and those few months that might change her whole life.
Because here's the thing—if everything's planned out, you can never find the unexpected.
And where's the fun in that?
This was really adorable with great characters and the perfect combination with serious and lighthearted. But then again what do you expect from a Morgan Matson book. This is only my second book by the author but I have really loved the way she balances romance and life. It's realistic and entertaining and The Unexpected Everything was no exception.
First things first I actually really loved the romance here. This is high praise from me, because most of you know I am romancephobic and I don't usually like contemporary romances. But Morgan Matson just does them so well. In this book, it's not quite a slowburn but it wasn't insta-love either. The characters had to work at it and take their time to get together and stay together. It felt realistic and engaging. Plus when they were together it was fantastic with some really great kissing scenes. It was a cute YA romance perfect for summer.
But that wasn't the only great relationship here. There was a really fantastic family relationship here with Andie and her father who haven't spent so much time together since Andie's mom died. Despite some challenging moments they develop a really close relationship. I apprteciated that they fought but they cared and supported each other. I liked seeing her and her dad getting to know each other again. Then you have Andie's friends who are tight-knit and devoted to one another but still fight. Matson does a great job in making the relationships engaging and relatable.
But that's exactly how I would refer to these characters as well. Andie was a great character as she's going through a bit of period of change and growth. There's something simple and realistic about her characterization. Same thing with Clark, the romantic lead. He was pretty adorkable but very easily could have been a nerdy caricature but he wasn't. He was was likable and interesting. Morgan's characterization makes the characters come alive and feel like people you know and people you want to be friends with. It's one of the best things about her contemporaries, the characters feel so genuine and that helps you connect with the story.
This might seem on the longer side for a YA and especially a contemporary romance but it's compulsively readable and doesn't feel like it's over 500 pages. This is only my second Matson book but I'm definitely impressed with how she balances fun and humorous moments with serious and complicated things that life can throw at us. It built to a really complex ending where you could feel the drama and everything going completely wrong. Along the way it is incredibly well-paced and I was so engaged in reading it. It's a fast and entertaining story that I wanted to keep reading.
On the whole this was a great summer read with a great romance, likable and relatable characters, and a story that is serious and fun. I loved it and it is definitely making me think that perhaps I should read some more of the author's books.
I give The Unexpected Everything 9.5 out of 10 stars



Buy/Borrow/Bypass:

Buy

. If you are a Morgan Matson and/or a YA contemporary romance fan and you have not read this book you should totally get on that. It's a great summer read with great characters and a plot that balances fun with more serious moments, like all great contemporaries.

Have you read The Unexpected Everything? What did you think? Leave me a comment with your thoughts. Thanks for stopping by and HAPPY READING!